I saw this image circulating around social media last week and I had to roll my eyes: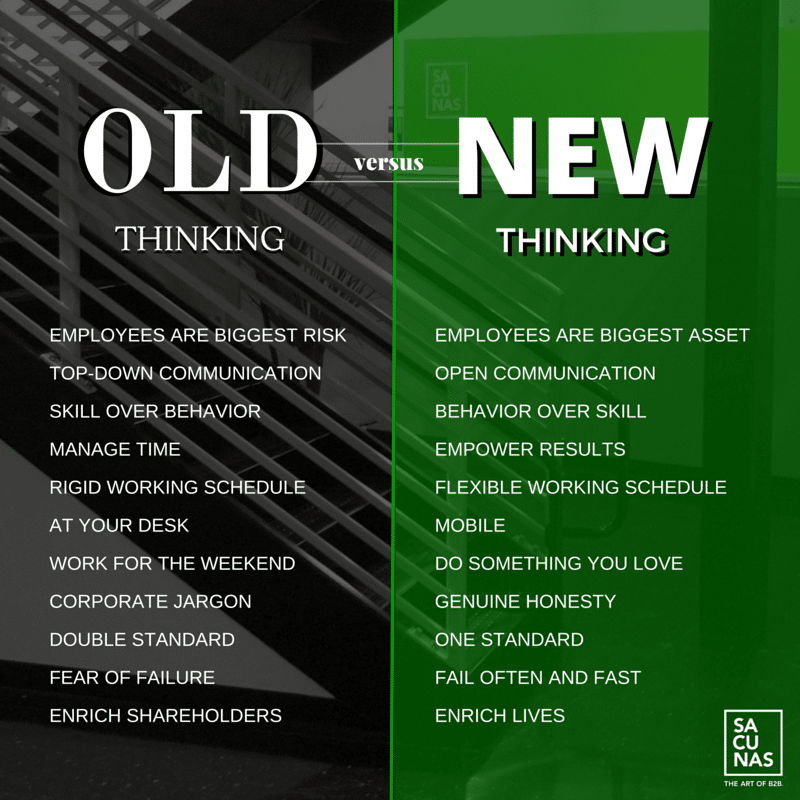 It's not because I don't believe in the values of "new management" thinking. Quite the contrary. It's that making the shift from "old management" thinking to "new management" thinking is not a problem to solve. It's a polarity to manage.
A problem is something to be dealt with or overcome. A polarity, on the other hand, is something to be managed on a continuum. Basically, anytime you are dealing with things that seem at odds with each other or paradoxical, you're dealing with a polarity and not a problem.
Take the first line in the viral image above as an example. Are employees your biggest risk or your biggest asset? The answer is both! Hire the wrong employee or lose control of your HR compliance function and it won't be too long before you're served a very expensive and frivolous lawsuit. On the other hand, if you treat your employees like they're not your greatest asset — like they can't be trusted to use their common sense or act in the best interest of the company — then you're going to engender a lot of resentment and apathy.
This meme, which is generating thousands of likes and shares, portrays New Management Thinking as the solution to the problem of Old Management Thinking. It's actually not the solution. There is no problem to solve – just a polarity to manage.
Don't treat polarities as problems to be solved or pay the price. Why? Because when a team treats a polarity to manage as a problem to snuff out — chanting all the while "Down with hierarchy!" "Down with meetings!" "Out with the old and in with the new!" — one polarity will be emphasized too much and the organization will experience even bigger problems.
A team like this wastes an inordinate amount of time and energy on the wrong things, leading to a lot of activity and little effectiveness. Their misguided efforts also make it harder for the good and necessary aspects of the opposite polarity to exist within the organization. The end result is an organization that is less resilient and adaptable to change.
As a leader, being able to discern the difference between a problem and a polarity will help you to build a culture that makes the right decisions about the right things. This is true even if, from an uneducated eye, those efforts can sometimes appear to be in support of "old" ways of thinking. But they are not old ways of thinking! You are just boosting up an aspect of a polarity that is needed in your organization at this period in time. Later on, you may boost up "new" ways of thinking, depending […]