Buy the Book: *Organizational Physics*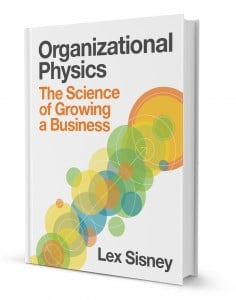 Welcome. There are three buying options for this timeless book: hard cover, Kindle, or audio book.
Hard Cover – Buy it in bulk for you and your management team at Lulu. List price: List Price: $45.00 Price: $31.50.
Click here for the hard cover.
Amazon Kindle – Buy it for Kindle at Amazon. $9.99.
Click here for the digital version.
Audiobook – Buy it for Audible Audiobook. $17.95 or included in Audible subscription.
Click here for the audiobook version.
Click here for audiobook visual materials.
About the Book
There are hidden laws at work in every aspect of your business. Understand them, and you can create extraordinary growth. Ignore them, and you run the risk of becoming another statistic.
It's become almost cliché: 8 out of every 10 new ventures fail. Of the ones that succeed, how many truly thrive—for the long run? And of those that thrive, how many continually overcome their growth hurdles … and ultimately scale, with meaning, purpose, and profitability? The answer, sadly, is not many.
Author Lex Sisney is on a mission to change that picture. After more than a decade spent leading and coaching high-growth technology companies, Lex discovered that the companies that thrive do so in accordance with 6 Laws — universal principles that govern the success or failure of every individual, team, and organization.
Lex has put those laws into an elegant, easy-to-understand framework called Organizational Physics. In this groundbreaking book, now you can discover how to apply this powerful system of growth to your own life and business.
Key Take Aways
When you read Organizational Physics: The Science of Growing a Business, you'll learn how to:
Understand your business, team, strategy, and execution in a whole new way
Make better, and faster, decisions
Create a purposeful, fulfilling, high-growth business
Turn the inevitable breakdowns into powerful breakthroughs for rapid growth
Build and manage aligned, passionate, high-performing teams
Consistently choose the right strategies for growth—even in the midst of seemingly impossible complexity
What Other CEOs Are Saying
"One of the best business books I have ever read, hands down."
Steven Blank's Four Steps to the Epiphany meets Drucker's Management meets Tony Hsieh's Happiness. Sisney brings it all together into a practical framework being put into practice today by hundreds of entrepreneurs and executives worldwide.

If you're starting a business, Organizational Physics breaks down fundamental principles in market validation that cut time to revenue and ensures you are reaching the right market with the right products at the right time.

If you're trying to take your business to the next level, Organizational Physics will help you avoid the common mistakes businesses make in scaling and give you a toolset for growth.

If you're trying to reorganize your company and make sure you have the best people in the optimal positions with the proper management structures, Organizational Physics will help you create order out of chaos.

If you're trying to find that spark that made you first excited about your business or company, Organizational Physics will help you get it back and figure out how to sustain that exuberance and satisfaction necessary to inspire, lead, and be truly happy.

Most importantly, this is not an academic book. It is written from the perspective of a true innovator with a proven track record who has helped hundreds of companies and executives create successful businesses and achieve happiness and fulfillment along the way. You can read a lot of other books to gain guidance in niche areas of business, but few bring the principles together into a simple, powerful framework that can be put to use everyday in life and business.

Do yourself a favor and read this book. Don't tell your competition about it, though!"

– Justin Bellante, CEO, BioIQ
"Incredibly useful"
"As a founder of a tech information security company, I found this book to be incredibly useful. All the examples and anecdotes described in this book represent so many of the lessons I learned the hard way (and wish I learned the easy way) that I recommend this for any startup team. If you are like me, a founder who built and grew an organization using a tech foundation background, you'll find the characteristics of the personality types described in a way such that you'll really grok it. We have since leveraged the Organizational Physics new hire assessments to add an additional element to our hiring process. The book's metaphor for various organizational and psychological components of your organization leverages the laws of physics which tech entrepreneurs should really be able to relate to; any entrepreneur should be able to see how entropy impacts their organization. Personally, I found Lex's description of working in your 'genius zone' to be a really helpful way to view and orient my role in a way that maximizes my satisfaction and effectiveness. Definitely required reading."
– John Abraham, co-founder and CTO, Redspin
"A Complete System for Business Growth"
"In Organizational Physics, Lex Sisney has quietly produced a work of genius that should, in this reviewer's opinion, become the next major, and definitive, tome on business growth. It's comprehensive, exhaustive, and elegant. Lex spares no detail, offering the reader a totalizing framework for managing – and adeptly advancing through – every stage of an organization's lifespan, with the ultimate goal of perpetual growth and renewal. This is not merely a synthesis of great management and business growth theories; it is an original, and practical, blueprint for entrepreneurs, managers, and executives looking to scale their companies and lead fulfilling personal lives, all born out of the author's own hard-won business victories.

The book's fundamental distinction of energy, or integration, versus entropy is worth the cost of entry alone. It'll change both how you look at your long-range vision and how you approach short-term, day-to-day task management. But that's just the foundation for what becomes a staggering number of insights – the Four Styles of Management; the Seven Stages of the Execution Lifecycle; the Three Strategic Follies; the Pre-Startup Checklist; and countless other 'gems' and epiphanies – all interwoven into an actionable, dynamic system uniquely suited for a world characterized by endless change, chaos, and disruption.

In short, if you're starting, managing, or scaling an organization and don't read Organizational Physics, you'll be missing out on one of the most important developments in modern business theory and practice. If you do, you may just find the clearest path to the glory, victory, and riches – in all the senses of that word – inherent in the promise of the entrepreneurial dream."
– Sam Rosen, CEO, ThoughtLead
"An all out deconstruction at an atomic level"
"There are plenty of books that articulate the tactics of growing or stabilizing a business. Most try to sell you a specific technique. While tactics and strategies are clearly discussed, you'll find that Organizational Physics digs much deeper into the core of what makes a business tick. This is an all out deconstruction at an atomic level of what drives the success and failure of companies. What starts as a metaphor for business, chapter by chapter, slowly becomes an enlightened journey describing the flow of energy in relation to your business. Through this deeper understanding you begin to recognize the patterns and relationships that lend themselves to profit or loss.

Everything we perceive is predicated on the fundamental laws of the Universe. As Organizational Physics unfolds, you realize your business responds to these same forces and principals. Turn your attention to the underlying principles. Things that are universally true and that transcend any particular company or situation will always be true. If you want to succeed in business, or in life, quit trying to replace principles with techniques. Instead, read this book, apply the principles and thrive."
– Matt Cooper, CEO, Addroid
"You don't need to be part of a fast-scaling organization to learn from this book"
"Organizational Physics is both enjoyable and inspirational. And unlike most modern business books filled with trendy lessons, this book provides a durable framework that can adapt to all types of situations.
While this book is perfect for CEOs and other high-level execs, you don't need to be part of a fast-scaling organization to learn from this book. You can apply its lessons about the destructive power of entropy to all types of lessons in your daily life, not just your career.
I highly recommend this book."
– Darren Litt, CEO, GoLive! Mobile
"An amazing framework for assessing everything"
"Lex Sisney has nailed it with Organizational Physics. The concepts provide an amazing framework for making decisions, assessing your environment, and taking action. The whole idea of how to get energy and neutralize or eliminate entropy in your life is totally liberating. The stuff that brings you down: eliminate it. The book has also helped me find my Genius Zone – that place where I operate as well as anyone else in the world, where I feel light, confident, and capable. Staying in your Genius Zone is your goal. Get there. Maybe the most valuable insights for me are how I not only assess myself with Lex's PSIU framework but how I have become more aware of other's styles. By understanding the people around me I am better able to make progress with many different types of personalities. I'm also able to be smart about how I build a team, acknowledging that complementary styles are a winning combination. If you are an entrepreneur or aspire to be one, give Organizational Physics a read. You'll be glad you did."
-Russell Benaroya, CEO, EveryMove
"Answer life's most perplexing issues"
"We're all getting advice, even if we don't know it. The advice comes in many forms. From gurus, experts, society, the media, our parents – everywhere. Usually, this advice is counterproductive and makes a tough situation even tougher to figure out. What I like best about Organizational Physics is that it provides the framework to answer life's most perplexing issues, not by going outside yourself, but by relying on your own inner guidance.

The other thing I appreciate about this book is that it really calls out the interdependence between our lives as individuals and how we operate within a larger system. This gave me a heightened awareness as to what matters most. If the tools outlined in Organizational Physics aren't working for you, chances are you aren't being honest with yourself. Or perhaps you are ignoring the indicators the system is providing. If you're operating in unchartered territory, read this book and apply its principles and you'll know what to do next."
– Seth Zaharako
"Wow! A game changer!"
I've read a lot of business books, so I wasn't sure if this was just going to be another exercise in exploring a theory that, although intriguing, may have little practical application in my world (which is investing in and managing businesses), or if it was actually going to be a new approach to thinking about organizational management/growth. Happy to say the ladder wound be an under statement!

What I found was not only a cohesive and palatable framework supported by sound and timeless principals, but a comprehensive practical guide for navigating the reality of implementing this methodology on the front lines. All served up in a way that made me feel I'd just uncovered something that is already second nature to me.

Beginning with the principals of physics as a foundation, Lex continues to build out a model for understanding every aspect of the organization and it's life cycle. It's clear that Lex is sharing a vast reservoir of experience and knowledge and he uses it to tackle even the most perplexing issues… from organizational alignment, to building your team, to strategic planning, no stone is left unturned. Seriously, this is one of the most useful biz books I have ever read and is now my go to reference book. If you're a business leader, investor, manager, etc… and this book does not resonate with you, you are in the wrong line of work!
– Ian Silverberg, CEO, Foundation Training
Buy the Book
Hard Cover – Buy it in bulk for you and your management team at Lulu. List price: List Price: $45.00 Price: $31.50. Click here for the hard cover.
Amazon Kindle – Buy it for Kindle at Amazon. $9.99. Click here for the digital version.