About the Facilitator Training & Certification Program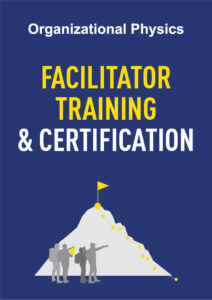 If you could have a few Jedi Masters working in your company whose purpose was to ensure that good, team-based decisions are being made and executed quickly, while helping to keep entropy low, would you deploy them?
Most people are not aware of the measurable impact that a few highly-trained facilitators can bring to an entire company. Having them in place, along with the right organizational architecture, leads to significant improvements in everyone's work life and performance.
This program trains facilitators in the Organizational Physics style and methodology. Most facilitator training programs focus on "soft" skills like active listening and conflict resolution. While it doesn't exclude those skills, this program has a unique focus on preparing facilitators to drive results and move things forward. Think of them as catalysts helping to build high-performing teams.
Who Is It For
Facilitation is a part-time role and can be played by anyone in your company who has a natural affinity to help teams be better. They should have a process-plus-people orientation, You'll frequently find outstanding candidates in roles like business alignment, culture & talent, and program management. They will come out of this program with the advanced skills, awareness, and tools to be world-class facilitators for your organization.
How It Works
We are big believers in learning by doing. In this program, Organizational Physics founder and head coach Lex Sisney will train your facilitators in various tools and methods. He will then observe them in action with your team via Zoom (or other) recordings, and follow this up with debriefing sessions focused on feedback and fine-tuning. The total training program lasts about eight weeks, or until all parties feel confident in their roles as facilitators.
Facilitators may choose to take a certification exam for an additional fee and become Certified Organizational Physics Facilitators. The certification exam is given at the end of the training program. There is a fee of $1,500 per individual for the exam.
Program Features
The program includes everything your participants need to be world-class facilitators. It includes education and training on:
How to use Organizational Physics Pro Tools for Strategic Alignment and Strategic Execution (this program does not include Structure Design tools which are covered in our Coach Training & Certification Program).
How to run an effective Ultimate Leadership Team Process
How to read and understand an Entropy Map to drive operational excellence
How to set the right lifecycle stage strategy using the Strategy Map and Top-Level OKRs
How to run a world-class Strategic Alignment Workshop
How to run an effective Cascading Objectives (OKRs) process
Throughout the program, we assign reading and reflection exercises, have regularly scheduled mentoring sessions, and are available to answer facilitator questions and scenarios. We also seek to have a lot of fun while doing it.
How Much Does It Cost
Fees start at $18K USD for each pair of facilitators. It's important to note that you train at least two facilitators at a time so that they can help one another and build shared consciousness.
How Long Does It Take
It will take two months to complete the full facilitator training and certification program. To teach and train them, a heavy up-front push is made over the first two weeks. As we observe them in action and debrief weekly, less effort will be required. The optional certification exam can be completed at the end of two months and for up to ten months following the training.
How to Apply
To apply for this program, schedule a call with Lex.