Designed to Scale Structure Resources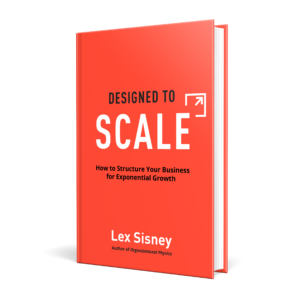 A paradigm-shifting book was published in 2022 by Organizational Physics founder and head coach Lex Sisney titled Designed to Scale: How to Structure Your Company for Exponential Growth.
This book explains how to design and change structures in a completely new and yet proven way, using the adaptive systems methodology of Organizational Physics.
The resources on this page support the book and will help you design and change structures to achieve breakthrough business results. Coaching with Lex directly will also benefit large, complex businesses.
Benefits of this Approach to Changing Organizational Structures
You should dive into the resources on this page if you are looking for insightful and proven ways to:
Design your business for the next stage of growth.
Create vivid role clarity and accountability across your organization
Make smarter senior-level hires that stick around and thrive.
Improve cross-functional coordination and teamwork.
Drive better metrics-based decision-making.
Free yourself to work significantly more on the business than in it.
Launch and grow new business units while sustaining the core.
Drive strategic execution at scale.
What Other CEOs Are Saying About this Approach to Changing Organizational Structures
"One of the best business books I have ever read."
– Gareth Dickens, CEO, ConvenientMD

"Simple, logical, profound."
– Stan Smith, President, Silver Hills

"Management genius."
– Michael Cassau, Founder & CEO, Grover

"Master when and how to change structures."
– Ozzie Goldschmied, former CTO, Ceridian

"Accomplish in 5 days what used to take 3 months."
– Kristian Gjerding, CEO, CellPoint Digital

"The rarest bird of all—a useful management book."
– Daniel Needham, President & Chief Investment Officer,
Morningstar Investment Management
Introduction to Designed to Scale
---
What is Structure?
Structure is how your business is organized. If you want to get your business to do something new, then at key points in its development, you'll need to look at and change its structure.
---
The 3 Building Blocks of Organizational Structure
The three design elements of organizational structure are: Functions, Location, and Authority. Use these three building blocks to avoid some common pitfalls and design the right new structure for your business stage and strategy.
---
The 6 Rules of Organizational Structure
There are 6 Rules of Structure to follow when designing a scalable business structure. They are:
1. If the strategy or lifecycle stage changes, change the structure.
2. Don't allow short-range functions to control long-range ones.
3. Don't allow efficiency functions to control effectiveness ones.
4. Don't allow centralized control to overpower decentralized autonomy.
5. Put people into roles where they can focus and thrive.
6. Process brings structure alive.
---
Design Controls Behavior
Design controls behavior. If you want new business behaviors, change the the organizational structure The 6 Rules of Structure provide visibility into key underlying polarities at work within every business. A key idea is to not treat polarities as problems to be solved. Polarities (e.g., short-range vs. long-range, efficiency vs. effectiveness, control vs. autonomy) must be harnessed to create the right amount of tension in the business for sustained strategic execution.
---
The Right Structure for the Business Stage
What is the right organizational structure for the current and emerging lifecycle stage of your core business and any business units? Using the Organizational Physics Strategy Map as a guide, this video shows that:
A Pilot It stage initiative requires very limited structure.
A Nail It stage initiative benefits from a functional structure.
A Scale It stage initiative requires an evolving structure (based on the functions defined in the Nail It stage).
A Milk It stage structure requires making a break or escape from the legacy structure.
---
Introduction to the 4-quadrant Structure Map
The Structure Map is a powerful thinking tool to identify any current structural breakdowns occurring in your business, to design the right new scalable growth structure, and to have easier and more pointed structural conversations with your team.
Download the Structure Map template.
---
How to Stack Your Structure with the Best Talent
No structure is perfect. No new hire is perfect. There are always trade offs. Be more conscious of those trade-offs upfront so that you can make the best decisions possible and stack your new structure with the right talent.
Learn more:
Test Drive PSIU Assessments
Buy How to Think About Hiring at:
Buy Designed to Scale
---
Start Your New Structure By Thinking Horizontally

When designing a structure, think horizontally instead of vertically. In this video, you will see how to lay out an ideal Customer journey, a Product journey, and an Employee journey as inputs into your new structure.
Buy the Book Designed to Scale.
---
The 5 Steps to Designing a New Structure
There are 5 steps to follow when designing and implementing a new organizational structure:
Step 1. Map Key Process Cycles
Step 2. Map Functions
Step 3. Clarify & Adopt Structure
Step 4. Place People
Step 5. Plan & Execute Roll Out
---
Links to Additional Resources Referenced in these Videos
Buy the book Organizational Physics
Buy the book Designed to Scale
Take the Top-Level OKRs Strategy Survey
Take the Entropy Survey
Take PSIU Assessments
Apply to the Designed to Scale Coaching Program
A direct coaching relationship with me can have a significant impact on the growth of your company. I would be happy to schedule an introductory call with you if you feel your business is large enough and complex enough to benefit from expert coaching. In the call, we will discuss your needs, answer your questions, and determine whether the program is a strong mutual fit. To schedule your call, complete the form below or click here to learn more about the Designed to Scale Coaching Program: