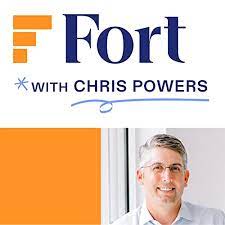 Imagine if you could listen to a recording from last year of you and your co-founder discussing the state of your business and your plans for the coming year. What would the conversation have sounded like a year ago? What were you thinking then? What were your blind spots that you recognize now? And how would it compare to a recording from this year?
The reason I'm asking is that this recent episode of the Fort with Chris Powers does just that. Chris and his business partner Jaxon Baxter conduct a real-time year-in-review live. It's really rare to capture something like this and it is worth listening to.
I collaborated with Chris and Jason last year to deploy Organizational Physics in their real estate management company, Fort Capital. For Capital is scaling like gangbusters and Chris and Jason are two of the most savvy and values-driven entrepreneurs you'll meet. Their no-holds-barred conversation is a great real-world example of the power of:
Getting a fresh perspective on the business
Designing the structure from first principles (not around people)
Recognizing the 4 Quadrants of structure and the risks of assigning conflicting accountabilities across quadrants
The importance of designing the business flywheel and making prioritization decisions based on the spokes that need the greatest focus
How to use the organizational structure to avoid execution bottlenecks
How to use machine learning to streamline the top of the sales funnel
How to scale dramatically without adding more people
The real rapport between Chris and Jason—two smart individuals who have complementary PSIU styles.
I didn't know that Chris and Jason were going to discuss Organizational Physics and it was fun and humbling for me to hear them speak about their experience and new perspectives in their own words. I hope you'll enjoy it too.