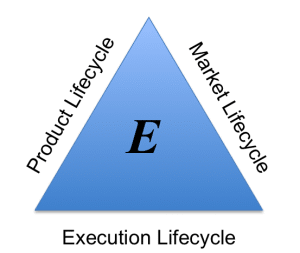 Everything has a lifecycle. It is born, it grows, it ages, and it ultimately dies. It's easy to spot a lifecycle in action everywhere you look. A person is born, grows, ages, and dies. So does a star, a tree, a bee, or a civilization. So does a company, a product, or a market. Everything has a lifecycle.
All lifecycles exist within a dynamic between system development and system stability. When something is born, it's early in its development and it also has low stability. As it grows, both its development and stability increase until it matures. After that, its ability to develop diminishes over time while its stability keeps increasing over time. Finally, it becomes so stable that it ultimately dies and, at that moment, loses all stability too.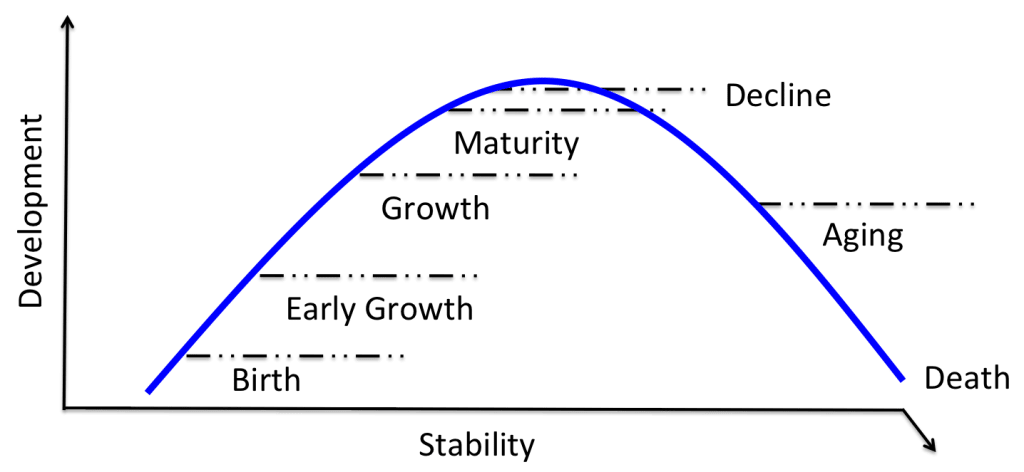 That's the basics of all lifecycles. We can try to optimize the path or slow the effects of aging, but ultimately every system makes this progression. Of course, not all systems follow a bell curve like the picture above. Some might die a premature death. Others are a flash in the pan. A few live long and prosper. But from insects to stars and everything in between, we can say that everything comes into being, grows, matures, ages, and ultimately fades away. Such is life.
What do the principles of adaptation and lifecycles have to do with your business strategy? Everything. Just as a parent wouldn't treat her child the same way if she's three or thirty years old, you must treat your strategy differently depending on the lifecycle stage. And when it comes to your business strategy, there are actually three lifecycles you must manage. They are the product, market, and execution lifecycles.
The product lifecycle refers to the assets you make available for sale.
The market lifecycle refers to the type of customers to whom you sell.
The execution lifecycle refers to your company's ability to execute.
In order to execute on a successful strategy, the stages of all three lifecycles must be in close alignment with each other. If not, like a pyramid with one side out of balance, it will collapse on itself and your strategy will fail. Why? Because aligning the product, market, and execution lifecycles gives your business the greatest probability of getting new energy from the environment now and capitalizing on emerging growth opportunities in the future. (I discussed in a previous post that the goal of any strategy is to get new energy from the environment, now and in the future.) As you'll see, aligning all three lifecycles also decreases your probability of making major strategic mistakes.
[…]