Buy the Book: *How to Think About Hiring*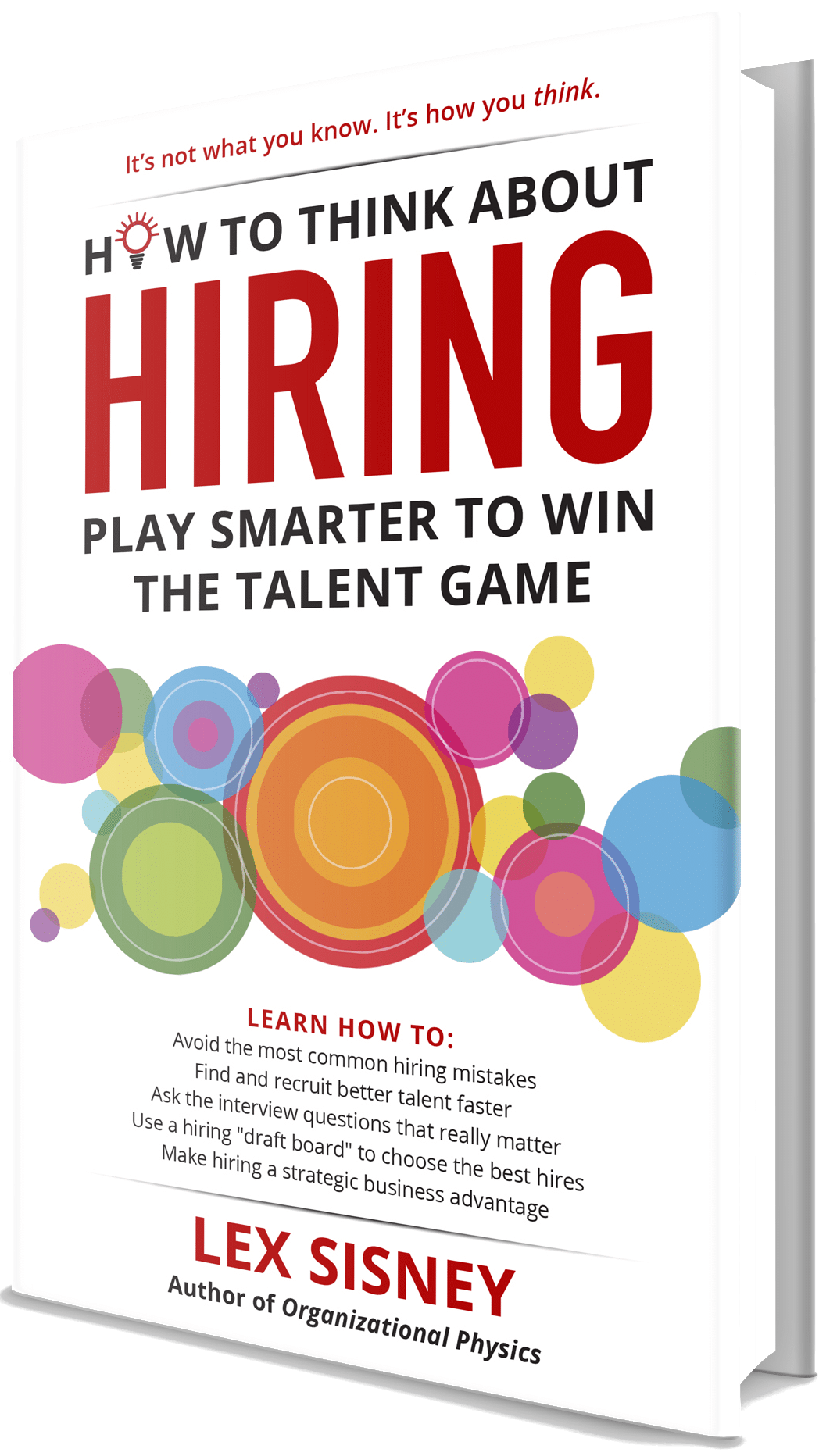 How to Think About Hiring: Play Smarter to Win the Talent Game is available now in Kindle or paperback on Amazon.
This is a book about breakthrough thinking in hiring and talent management. It's designed specifically for CEOs, department heads, hiring managers, and anyone else seeking an edge in how they think about hiring. It will equip you with a powerful framework for understanding who to hire, who not to hire, and how to build a high-performing team.
The framework that you'll learn in this little e-book is simple, powerful, and timeless. No matter how complex or chaotic the world of talent management might seem on the surface, there are some basic principles at work underneath it. When you understand the principles, you can execute a winning process.
Key Takeaways
Buy How to Think About Hiring and learn how to:
Avoid the most common hiring mistakes
Find and recruit better talent faster
Ask the interview questions that really matter
Use a hiring "draft board" to choose the best hires
Make hiring a strategic business advantage
What Other Leaders Are Saying
"What you will find in the pages of How to Think About Hiring speaks to what made the New England Patriots such a winning organization. Indeed, Lex has captured the essence of what we were doing better than anyone else I've read – and believe me, many have tried. But let me be clear, this book isn't about the Patriots or the NFL. It is about defining the very foundation for how any elite organization should think about hiring and then integrate leading-edge management theory and real-world experience, making those principles easy to apply and scale. It's really a book for any leader in any organization who wants to leverage their approach to talent acquisition and management to create a competitive advantage and sustained winning environment. I hope and trust you will enjoy this book as much as I have, and I encourage you to put its principles into practice. If you do, you and your team will be sure to reap the benefits."
– Jack Mula, Former General Counsel/Player Personnel, New England Patriots
"Organizational Physics set the bar very high for this book. Fortunately for the reader, "How to Think About Hiring" delivers what has come to be expected, and more.

In the same way that Organizational Physics established an applicable framework for organizing people and product in the business lifecycle, "How to Think About Hiring" has established an accessible and repeatable framework to seamlessly navigate the complicated process of hiring. This framework leads to capturing top talent, and eliminating as much entropy as possible for both the interviewer and interviewee throughout the process.

Overall, this title builds on Organizational Physics in an elegant and extremely useful way. I would highly recommend it to anyone interested in revamping their hiring process, and updating the way that their team thinks about hiring. Thank you for the great resource Lex!"
– Jeff Hunter, Senior Operations Manager, BioIQ
"Read it! Try it! Live it! In a world littered with books on the subject, this book actually does its job. Lex Sisney's systematic approach to team building has been utterly transformative for Wiredrive. We've been able to rebuild our team rapidly, based on specific functional needs and management fit, all while maintaining high cultural values. In the process we've virtually eliminated bad hiring – it just doesn't happen anymore. Lex's approach has also helped us recognize where we had great people in the wrong positions and were able to quickly realign them to be more successful and most especially happy."
– Taylor Tyng, CEO Wiredrive
"How would your business hiring practices change if you had access to the team building systems that help differentiate sports dynasties from average teams? In 'How To Think About Hiring,' Lex shares a framework for hiring and building winning teams that has been used by the most successful NFL franchises, and can easily be applied to your business. From 'drafting' and building a foundation to talent management and coaching, the tools shared in this book have helped me take the guesswork out of the hiring process. I highly recommend this book for anyone looking to build a rock solid team, or just wants an entertaining, inside look at how the greatest sports teams are built."
-Donny Killian IV, Strategic Initiatives BoomBang

Buy the Book

Just $7.99 on Amazon Kindle, or get a free PDF copy when you test drive the PSIU Talent Management Suite.