Cascading Objectives:
How to Cascade Objectives and Key Results (OKRs)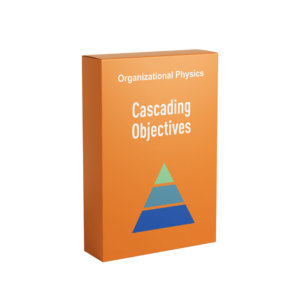 Cascading Objectives (OKRs) is both a software program and a philosophy for strategic execution. Using it, you can cascade your company's top-level strategy into aligned objectives and key results.
The program is accessed via the Designed to Scale Membership Program, Pro-level and higher. It is an online interactive software and it securely integrates into your existing IT environment.
The Cascading Objectives program is bundled with the Evolving Structure and Ultimate Leadership Team (ULTP) programs. Together, these three programs provide the foundation for sustained strategic execution at scale.
How to Cascade Objectives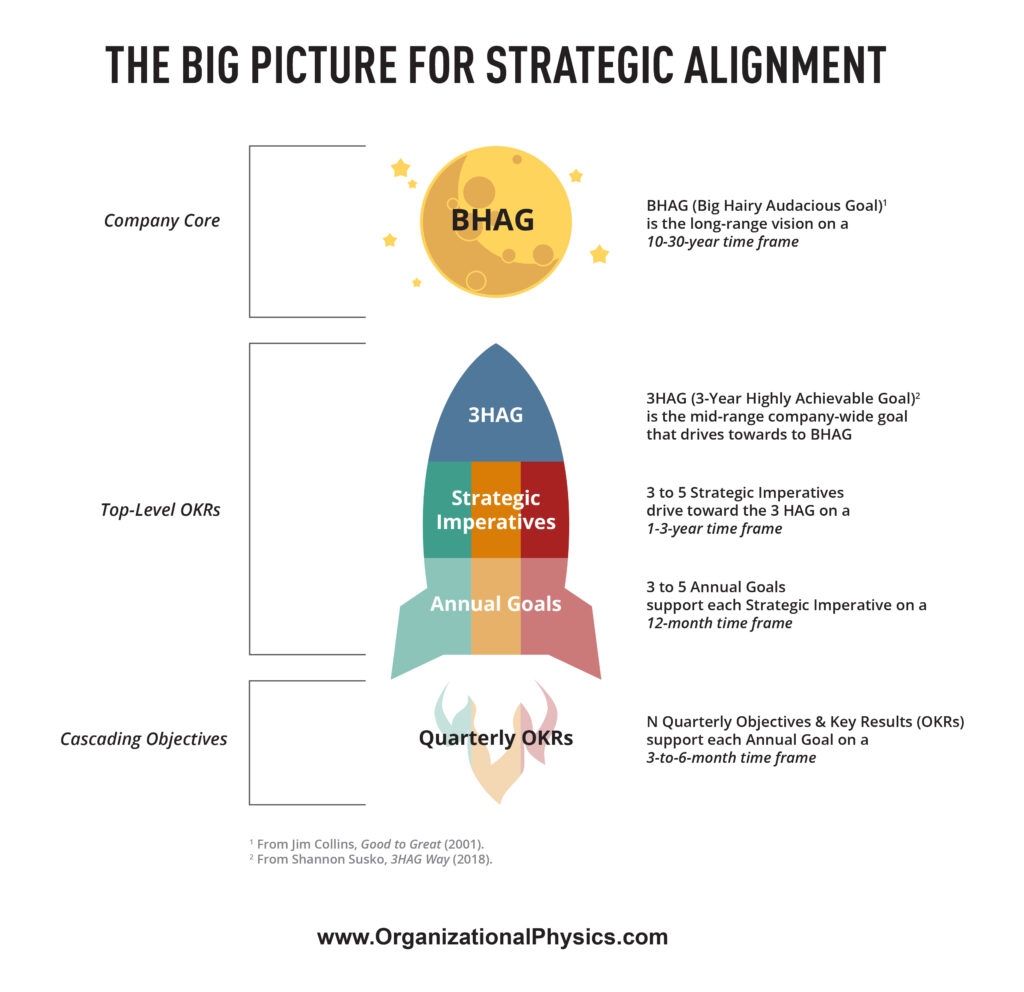 The bottom of the rocket is the cascading objectives. They provide the impetus to drive forward short-range business improvements. The rocket body consists of lifecycle-stage-dependent Top-Level OKRs. Members of the Leadership Team own these OKRs, which serve to drive forward the company's strategy and point the way towards its 3-year highly achievable goal or 3HAG (3HAG Way, Shannon Susko, 2018). As a result, the 3HAG leads the company toward its long-range Big Hairy Audacious Goal or BHAG (Good to Great, Jim Collins, 2001).
With this image, I want to emphasize that an OKR program can't be cascaded if it lacks a lifecycle stage-dependent strategy (Top-Level OKRs Survey), the right evolving structure to support that strategy (Evolving Structure program), a strong Leadership Team and process that drives the strategy forward (ULTP program) .
Once these elements are in place, you can successfully launch and cascade a quarterly OKR process for the entire company using this Cascading Objectives program. Here's how.
How to Set Effective OKRs
Having a Cascading Objectives process ensures everyone in the company focuses on the most important things in their area to achieve short-term results that support long-term strategic goals.
In Organizational Physics Cascading Objectives, the following building blocks are used: Align the organization towards the right 3-Year Highly Achievable Goal based on stage-dependent Strategic Imperatives, which are supported by Annual Goals, which in turn are supported by cascading quarterly OKRs (objectives and key results).
3-year Highly Achievable Goal (3HAG): This is a company-wide, mid-range goal and rallying cry we can achieve if we implement our Strategic Imperatives quickly and well.
It is important to reinforce that we are not asking you to set a 3-year highly achievable goal first and then set Strategic Imperatives and Annual Goals. This is due to the fact that Strategic Imperatives must be lifecycle dependent! Without setting the right Strategic Imperatives first, we can end up with a 3-year goal that is out of sync with the company's true stage. Resulting in an overly ambitious goal with poor execution. This would be like having a 4-year-old child with a 3-year goal of getting into Harvard.
Strategic Imperatives: the top 3 to 5 big, corporate-wide, do-or-die objectives that will likely take about 3 years of sustained focus and effort for the business to complete. Synonyms could be "big rocks" "pillars" "swim lanes."
Achieving a Strategic Imperative is what reduces internal friction, moves the business successfully to its next lifecycle stage, and simultaneously increases its capacity for sustained throughput and innovation. We recommend no more than 3 to 5 active Strategic Imperatives in total with one Big Implementer assigned to each imperative who is accountable for its success.
Annual Goals: the key results that fit within a given imperative. They are the year-long efforts that are concrete, specific, measurable actions to achieve this year.
We recommend 3 to 5 Annual Goals per Strategic Imperative with one implementer assigned to each annual goal. The Annual Goals for each Imperative are cross-functional. This means that the team assigned to that imperative is also cross-functional but with one leader ("the Big Implementer") driving it to completion.
OKRs: the short-range individual or team-based objectives and key results that drive forward the annual goals and strategic imperatives.
Individual and departmental quarterly OKRs are how the company drives forward the strategy this quarter. Just as all roads lead to Rome, all quarterly OKRs must align with and support the company's annual goals and strategic imperatives.
How the Cascading Objectives Program Works
Put the results of your Top-Level OKRs Strategy Survey into the Cascading Objectives Software 3-Year Strategic Imperatives page. An implementer is assigned to each imperative, dubbed the "Big Implementer." An imperative's due date is about three years away, and it has its own page in the database defining its vision and scope: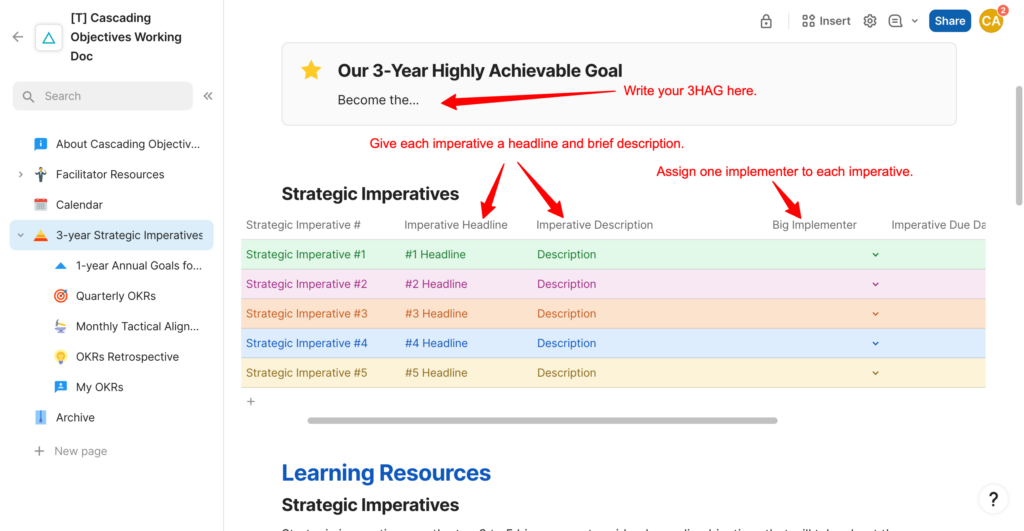 The strategic imperatives are broken down into three to five annual goals, with an implementer assigned to each: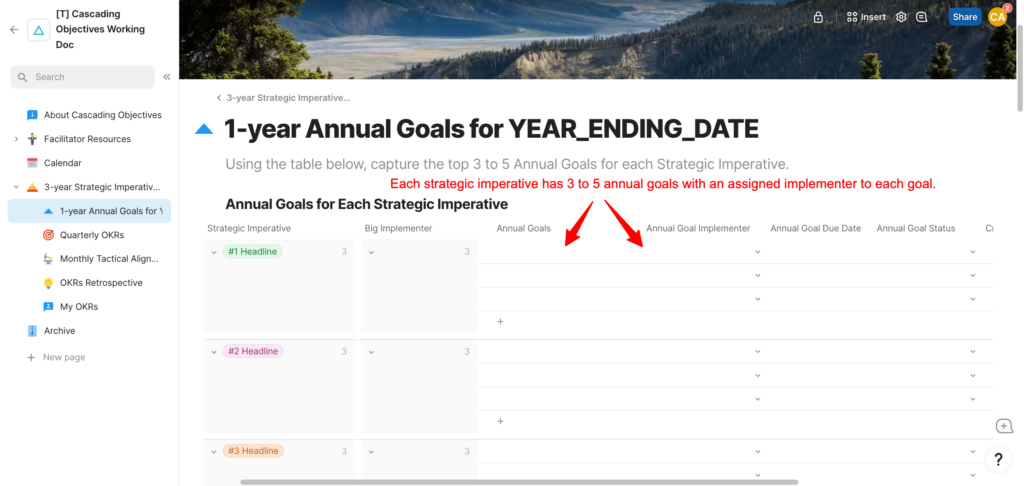 Individuals and teams create objectives and key results. Key results owners can be assigned from any level of the org: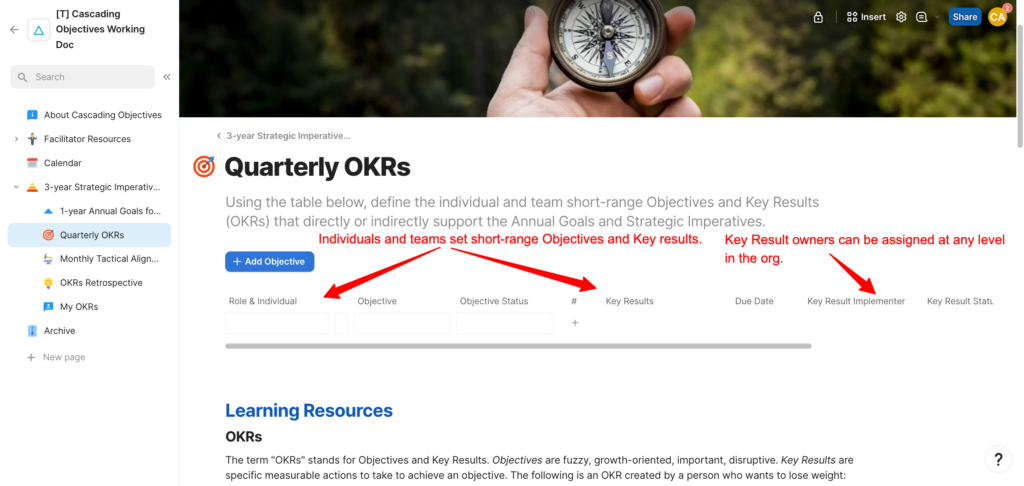 Each objective is tied to a strategic imperative and an annual goal: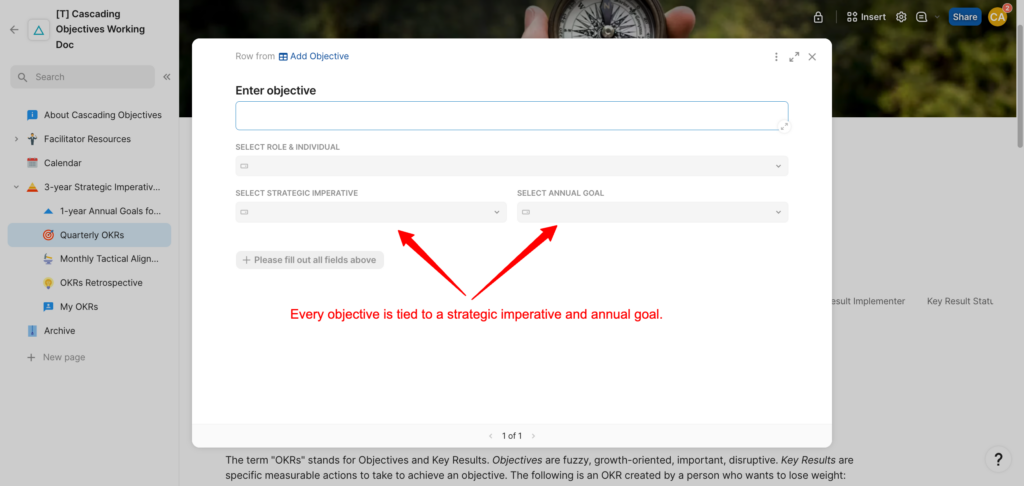 The software can be used to conduct and record monthly tactical alignment sessions with each strategic imperative team: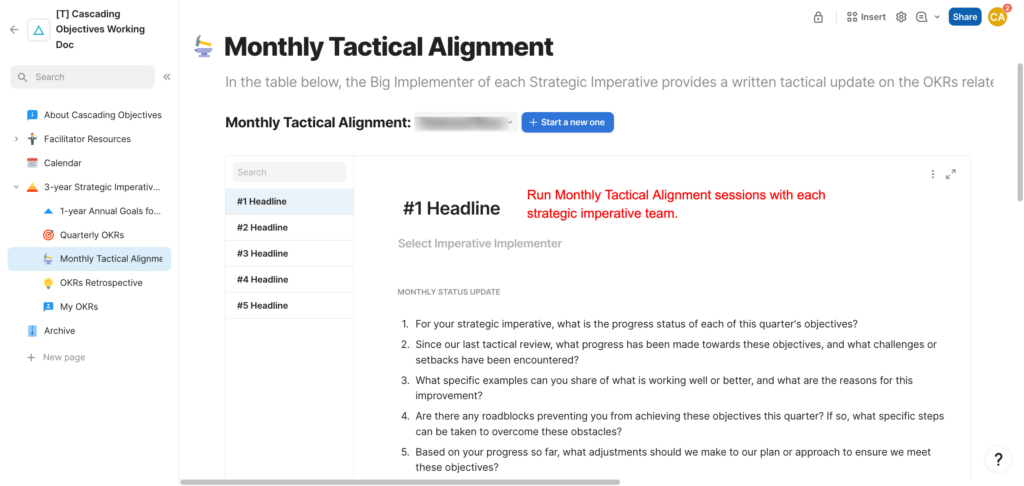 We recommend you use the software to run quarterly retrospectives. Afterall, if the team isn't learning and developing, it will lose to one that is: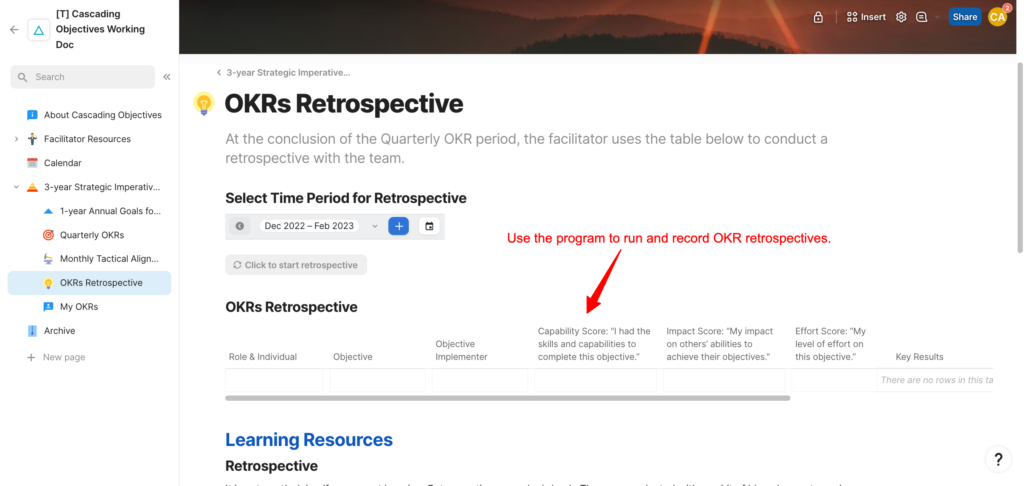 Each individual has a custom view of their objectives and key resutls and an archive stores past quarters' okrs as well as past monthly tactical alignment and retrospective sessions.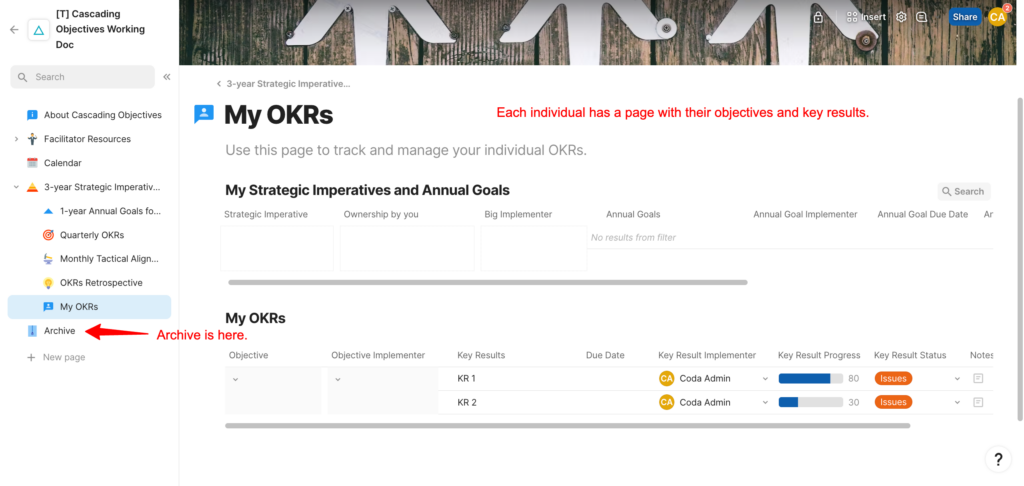 Summary of the Cascading Objectives Process
Let's recap. A successful company must have a sound strategy and structure, as well as a strong leadership team and process. Once those elements are in place, then it becomes possible to cascade alignment throughout the entire org by using the Cascading Objectives software and approach.
This program makes it much easier and faster to align individual and team objectives to the top-level strategy. Additionally, it makes it possible to conduct monthly tactical alignment sessions and retrospectives in a way that enables the team to learn and grow as they execute their objectives. If the team isn't learning and growing, then this is a missed opportunity. You can bring it all together using this program.
Three Programs for the Price of One
In addition, by subscribing to the Designed to Scale Pro-level Membership Program, you get access to the Cascading Objectives program plus the our Evolving Structure and the Ultimate Leadership Team Process (ULTP) software programs for one price.
The three programs connect like this and provide the backbone for sustained strategic execution: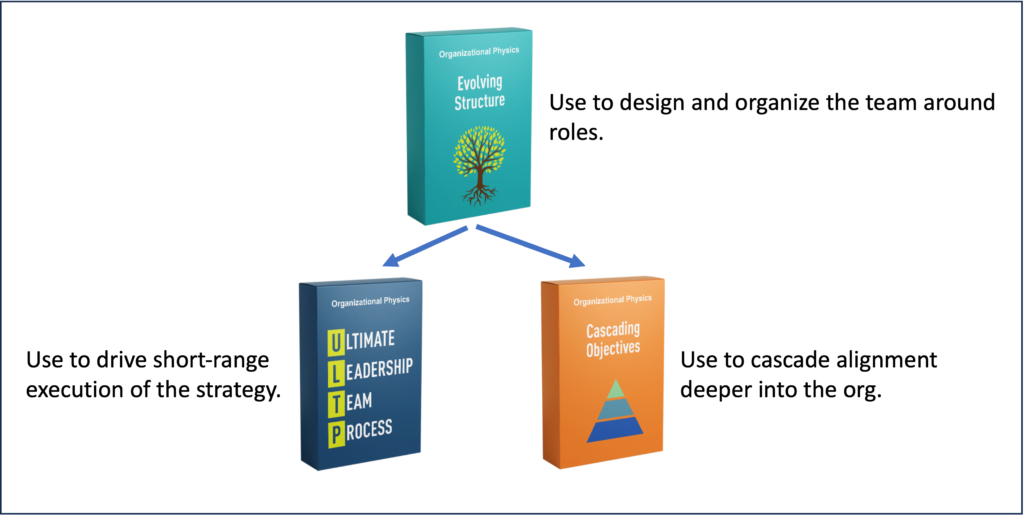 Frequently Asked Questions
1. We already have OKR software. Should we use it?
Due to the lack of support on the market for the way we believe an effective OKR program should be run, we had my own custom OKR software built in Coda. If you are unfamiliar with it, Coda is a web database and doc that integrates with most existing IT environments (Microsoft, Google, Slack, Asana, etc.). It also integrates with the Evolving Structure and Ultimate Leadership Team Process so it has additional advantages.
2. How deep should we attempt to cascade?
Of course, this is up to you, but I recommend you run your OKR program for one to two quarters with the leadership team only. In this way, the team can build the muscle to cascade it into their departments. It is important to cascade from a strong foundation if you want to avoid a failed change initiative.
3. How do you support the team with OKR setting?
Online training and education is included in the program. If you want a deeper level of support, you can apply to our custom coaching program that can include a powerful Strategic Alignment and OKR setting workshop.
4. We want to run a different time cadence, is this possible?
Yes, you can set OKR periods for whatever time frame makes sense to your business. We recommend a period between 3 to 6 months. Meaning, a 6 month period would have two OKR planning sessions each year instead of four.
5. What if an Objective ties to more than one strategic imperative?
You can set the option to align objectives to only one or more than one strategic imperative. However, we recommend that the team chooses the single imperative that is most impacted by the success or failure of their objective. Focus brings clarity and power.
6. What if one person is split across multiple strategic imperative teams?
This happens. A column in the database is called "Linchpin" and it refers to the individual (not role) who most controls the fate of a given strategic imperative (and who is not the owner, aka Big Implementer, of that imperative). We ask this question so that you can scan the list of objectives and if the same name and face appear over and over, you may have a bottleneck or resourcing issue that needs immediate attention.
7. What happens if we have one Big Implementer in charge of more than one strategic imperative?
Then you have a bigger problem than trying to cascade okrs. Go back to your strategy and structure. There's a saying from Jim Collins, "first who, then what." It's sound advice. You need one talented, focused, and committed leader to own each strategic imperative as its Big Implementer. They must get up in the morning thinking about how to drive this imperative forward and they should be dreaming about it at night. We all have finite energy in time and the most important thing you can do as a CEO is to ensure that each imperative is staffed by the right leader and team who can dedicate themselves to the success of that imperative.
8. How much is it?
Please see our current pricing here. One annual fee covers all three programs: Cascading Objectives (OKRs), Evolving Structure, and the Ultimate Leadership Team Process, plus all of our other Strategic Alignment Tools and PSIU credits too.
9. Is there a money-back guarantee?
Yes. When you're ready, sign up for the Pro-level membership tier or above. If you make an honest effort to use the program within the first 30 days but you are not wholly satisfied with the outcomes, you can let us know and we will issue you a full refund.
10. Is training included?
The software includes a full online training package with videos and documentation, as well as email support.
11. Do we have to use the Evolving Structure Program to use this software?
Yes, you do. The Evolving Structure acts as the parent database to select and assign the implementers for each strategic imperative, annual goal, and objective. Key results owners, however, don't need to be listed in the Evolving Structure. They can just be added directly by sharing the Cascading Objectives doc with them and you can use the share button to remove them when needed.
12. What is the ultimate benefit of this approach?
There are three major benefits of taking this approach to cascading objectives:
Benefit #1. It is both top-down and bottom-up
In our view, the strategy or the "why and what" must come from the top down, and the execution gap or "how" must be closed from the bottom-up. By using this program and our methodology, you can accomplish this much faster and more efficiently.
Benefit #2. It aligns to what matters most/em>
Setting the right top-level strategy is crucial to your company's success, because if the environment zigs and the strategy zags, you won't be around very long. This program ties all objectives and key results to what matters most, the strategy.
Benefit #3. It is simple
The simplicity found on the other side of complexity is what we all want. That's what this program is about. It asks you to make a list of a few top-level strategic imperatives, create a list of impactful annual goals for each one, and designate one accountable role as "the implementer" for each. Focus most of your efforts and energy here, and then the rest of the team can set objectives and key results that support those initiatives in a straightforward way.
Become a Pro Member
Join the Designed to Scale Pro-level Membership Program by clicking the button below. We'll ask you a few questions via email to aid your setup, and then you can get started on transforming your business using these tools.