Buy the Book *Designed to Scale*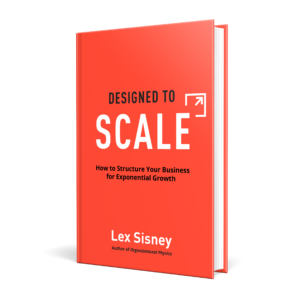 Welcome, there are three options for purchasing this book:
How to Structure Your Business for Exponential Growth
Have you ever wondered why some businesses scale while others fail? For every company that triples in size, thousands lose their momentum and get stuck.
Every business leader aspires to achieve and sustain growth, but most come up short. Usually this happens because the early start-up structure is not designed to support their next-stage business strategy. It is not designed to scale.
For a company to execute its strategy and scale up, its leadership must know why, how, and when to change the organizational structure. They must also know how to design the structure so that the right people can play key roles where they can thrive.
Designed to Scale explains the principles of scalable organizational structure: What are the structural traps that kill business growth? How do you successfully and quickly change your company's trajectory? How do you design an agile and responsive organization that lasts?
In this insightful and eye-opening book, author and business scaling expert Lex Sisney dispels the most common myths about organizational structure and shows you what really works—giving you a clear, actionable blueprint to grow your company exponentially and sustainably including how to:
Design your business for the next stage of growth.
Create vivid role clarity and accountability across your organization
Make smarter senior-level hires that stick around and thrive.
Improve cross-functional coordination and teamwork.
Drive better metrics-based decision-making.
Free yourself to work significantly more on the business than in it.
Launch and grow new business units while sustaining the core.
Drive strategic execution at scale.
What Other CEOs Are Saying
"One of the best business books I have ever read."
– Gareth Dickens, CEO, ConvenientMD

"Simple, logical, profound."
– Stan Smith, President, Silver Hills

"Management genius."
– Michael Cassau, Founder & CEO, Grover

"Master when and how to change structures."
– Ozzie Goldschmied, former CTO, Ceridian

"Accomplish in 5 days what used to take 3 months."
– Kristian Gjerding, CEO, CellPoint Digital

"The rarest bird of all—a useful management book."
– Daniel Needham, President & Chief Investment Officer,
Morningstar Investment Management