Evolving Structure:
Your Linchpin for Improved Role Clarity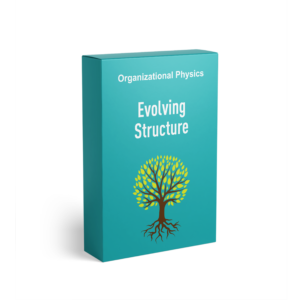 The Evolving Structure program provides you with the architecture to organize your management team with vivid role clarity. It will help you to design your structure and assign and clarify roles within that structure.
The software allows you to organize your business functions; to define the role purpose, key performance indicators, key accountabilities, and desired PSIU style for each role; and to place individuals into the role(s) where they can best focus and thrive.
The program is accessed via the Designed to Scale Membership Program, Pro-level and higher. It is an online interactive software and it securely integrates into your existing IT environment.
The Evolving Structure program also acts as the parent database to the Ultimate Leadership Team Process (ULTP) and Cascading Objectives (OKRs), with which it is bundled and which you can use to drive team-based strategic execution at scale.
Here's how the system works in three simple steps.
Step 1: Define Roles
The first step is defining the various roles in your structure. You can drag and drop roles into quadrants, create new roles, or edit the template roles included in the program. To give you a sense for it, here's a screen shot of the main page of the Evolving Structure software: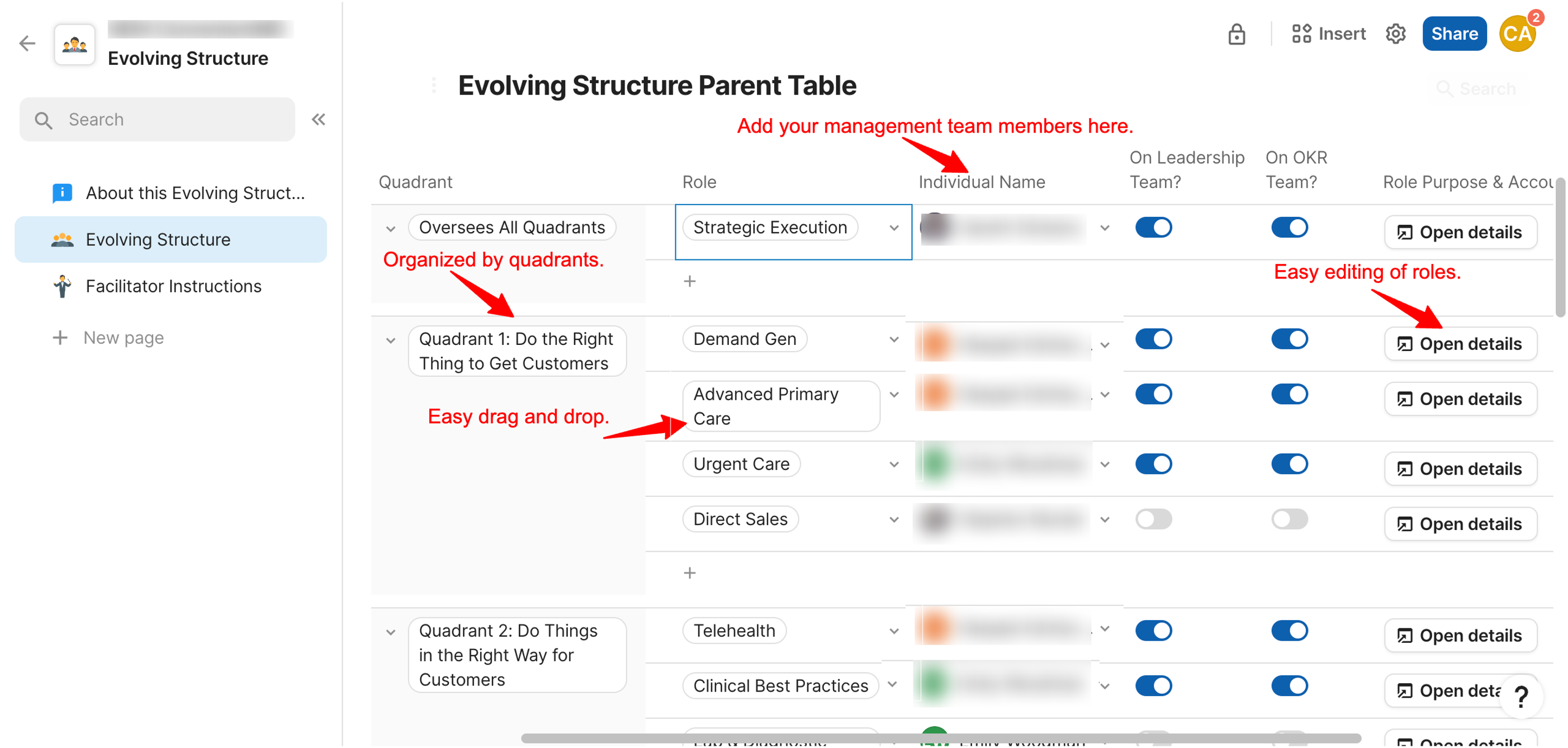 Role Templates Included
Over thirty role templates are included in your subscription in order to make this process easy for you. These templates cover the most common and impactful roles found in all types of businesses. They provide role definitions, accountabilities, key performance indicators, and desired PSIU styles for each role. Because every business is unique, these template roles can be edited to suit your needs.
Here's an example of a role template for the head of Strategic Execution. All the role definitions follow this same format and you can edit or expand on any role as needed: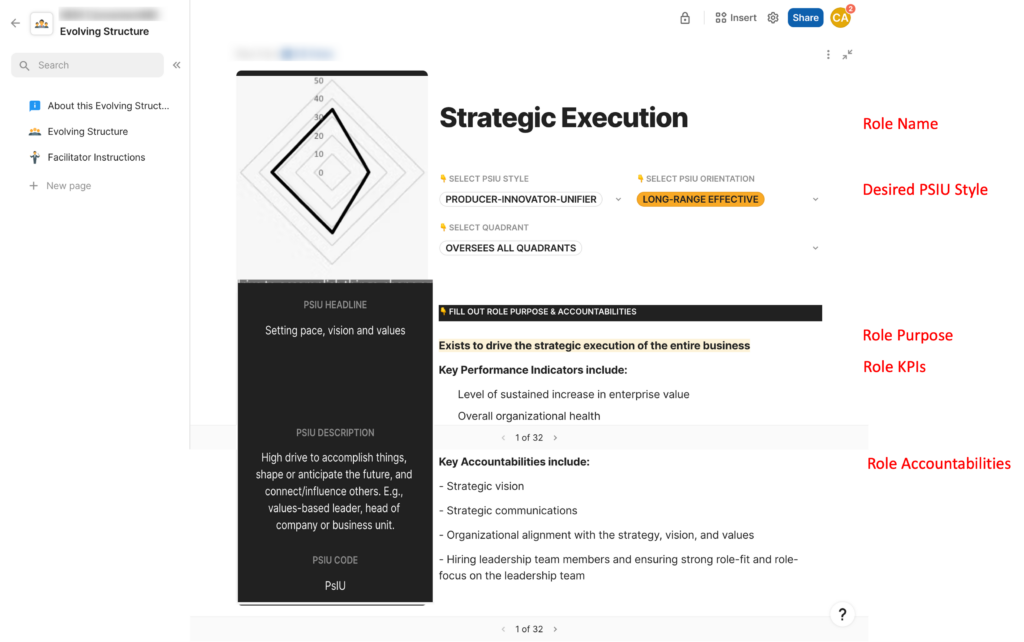 Step 2: Add People
The second step is adding people to each role. When your basic structure is ready, click Share to share the doc with your team. Then use the Individual Name column to add each team member into their respective role(s).

Step 3: Assign People to Teams
The third step is assigning people to their respective teams. Use these buttons to add or remove individuals on the Leadership Team and/or the OKR Team. You can edit the names of these teams as you wish:

The Leadership Team is how you will drive cross-functional, short-range execution of the strategy. This team uses the Ultimate Leadership Team Process software, which is included in your subscription, to manage their reporting, objectives, and to make decisions.
The OKRs Team is the team that cascades objectives and key results throughout your company. The OKR Team, which is usually a larger team than the Leadership Team, uses the included Cascading Objectives software to manage and align its objectives.
Three Programs for the Price of One
By subscribing to the Designed to Scale Pro Membership Program, you get access to the Evolving Structure tool as well as the Ultimate Leadership Team Process and the Cascading Objectives (OKRs) software programs.
The three programs connect like this and provide the backbone for sustained strategic execution: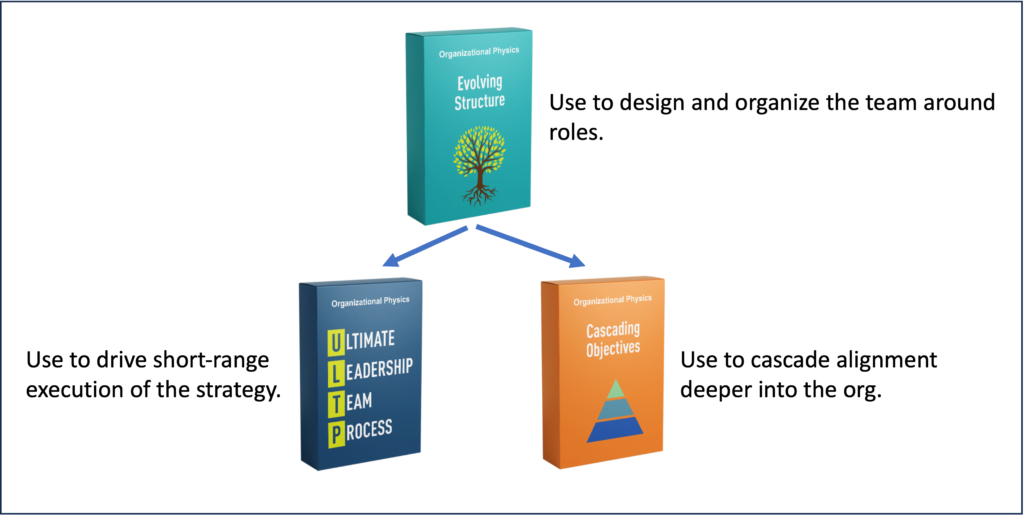 Frequently Asked Questions
1. How many people can I add to the evolving structure?
There's no technical limit but the spirit is to use it to structure your management team only, and not try to put everyone in the company into this tool. The reason why is that this is a structure, not an org chart. The structure, with its links to these other programs, is what allows you to drive sustained strategic execution. The org chart, on the other hand, is an HR admin tool that may be necessary to have but that doesn't actually help you improve business performance.
For example, speaking from experience, I would absolutely include all functional heads in this Evolving Structure and also add them to the Leadership Team. I would also include any directors and key managers and add them to this structure and to the OKR Team. But I wouldn't add more members than that because it's not the right tool to manage an entire employee base. As my dad used to say, always use the right tool for the job.
2. What if more than one person plays the same role?
This is a good question because it helps to illustrate the difference between this tool and an org chart. Let's say that you have an Account Manager role with several account managers. Rather than trying to list all the account managers in this structure, you would only show the leader of the Account Management function.
You can still have all the Account Managers do OKRs (using the Cascading Objectives tool) even though they aren't visible in this evolving structure. In essence, keep this structure for the "head of function" level and up to one level below it, but do not try to capture every employee in the company using this tool. That's not its purpose.
If you are in a situation where you have multiple co-leaders, that indicates you probably need to clean things up by using this structure tool to truly define the role and its purpose. Then you can identify the best leader for a given function.
3. What if one person plays multiple roles?
When a person plays multiple roles, we call it wearing "hats." To show a person wearing multiple hats is easy. Just select their name next to each role or hat they are wearing.
4. What is the benefit of this approach?
There are three major benefits of taking this approach to designing your structure:
Benefit #1. It brings vivid role clarity
One of the keys to scaling your organization is to make sure that the roles at the top are clearly defined, with few to no conflicting accountabilities, and that these roles are energized with the right leaders. If you mistakenly collapse roles or functions at the top of the structure, or allow for muddled or conflicting accountabilities, you will have some predictable negative outcomes.  This tool will keep you from making these common mistakes, bringing unarguable role clarity to your organization and making the structure easy to manage on an ongoing basis.
Benefit #2. It is the linchpin for improved strategic execution
In addition to maintaining the integrity of your structure, this tool integrates with the Ultimate Leadership Team Process and Cascading Objectives (OKR) programs to bring the structure alive in the daily/weekly work. In this way, driving short-and long-range development becomes much smoother and easier for the team. Basically, you can't drive sustained strategic execution without a sound and evolving structure and this tool makes it much easier to accomplish that goal.
Benefit #3. It reinforces first-principle-based thinking about structural decisions
Conversations about structural decisions can be rife with tension and misunderstanding. This is usually because people don't share the same understanding of what a role truly does, or where it should go in the structure based on principles, not just on what was done in the past.
Since this program is based on clear design principles, it makes it much easier to identify where new roles fit in the structure and who is the best match for a given role. Formerly "sticky" conversations, while still not always easy, can now become much clearer and more straightforward.
5. How much is it?
Please see our current pricing here. One fee covers all three programs: Evolving Structure, Ultimate Leadership Team Process, and Cascading Objectives (OKRs), plus all of our other Strategic Alignment Tools and PSIU credits too.
6. Is there a money-back guarantee?
Yes. When you're ready, sign up for the Pro-level membership tier or above. If you make an honest effort to use the program within the first 30 days but you are not wholly satisfied with the outcomes, you can let us know and we will issue you a full refund.
7. Can you design my structure for me?
We are experts at designing and implementing new structures and can assist qualified companies. If you would like this level of support, you can apply for our custom, one-on-one coaching program.
8. Is training included?
The software includes a full online training package with videos and documentation, as well as email support.
9. Does this software integrate with our existing IT stack?
Yes, it should. We use a third-party tool called Coda to manage the backend functionality of this program. Coda integrates with most of the popular IT environments and tools (Microsoft, Google, Asana, Slack, etc.). As part of our service, we don't perform any integration work, and none is actually required to use and benefit from this program.
Become a Pro Member
Join the Designed to Scale Pro-level Membership Program by clicking the button below. We'll ask you a few questions via email to aid your setup, and then you can get started on designing your new structure.