About the Coach Training & Certification Program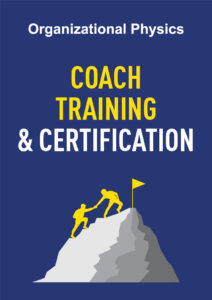 The majority of organizational development coaches work at the level of people, teams, and culture. Still fewer work at the level of strategy, operational excellence, and OKRs. Elite coaches, however, also work at the deeper levels of Structure and Process to catalyze total organizational transformation for their clients.
If you are a leadership and organizational development coach aspiring to add these deeper levels of Structural Design and Process mastery to your practice, then our Coach Training & Certification Program warrants your investigation.
With this program, you will gain a new and valuable skill set that will enable you to help your clients achieve two to three years' worth of organizational transformation in just three to four months. Having this capability increases your value as a coach and provides you with a better track record and confidence in your career.
Who Is It For
This is an elite coaching program. To qualify, you should already have a successful coaching practice and credentials. Or, you may be a former C-suite executive looking to transition into leadership and organizational development coaching after a successful exit. Most importantly, you already have high confidence in your abilities to coach other CEOs and to catalyze a leadership team to new breakthrough performance levels.
How It Works
We are big believers in learning by doing. In this program, Organizational Physics founder and head coach Lex Sisney will guide one of your clients through the Designed to Scale Coaching Program and you will take the observer seat. You and Lex will debrief and answer your questions after each client and leadership team session. This initial training program lasts three to four months.
Following this initial training program, should you choose to continue, you will be enrolled in the Designed to Scale Coach Membership tier. Through this program, you will receive ongoing mentorship and support from Lex as you work directly with your clients. Once you have successfully implemented this program with three client companies, and we have verified this via survey, you can elect to take the Certification Exam.
Program Features
This program includes everything you need to become a world-class leadership and organizational development coach. It includes education and training on:
How to use all Organizational Physics Pro Tools
How to quickly change an organizational structure without causing a lot of disruption
How to ensure optimal role fit of existing staff and new hires
How to read and interpret PSIU Assessments
How to read and understand an Entropy Map to drive operational excellence
How to set the right lifecycle stage strategy using the Strategy Map and Top-Level OKRs
How to run an effective Ultimate Leadership Team Process
How to run a world-class Strategic Alignment Workshop
How to run an effective Cascading Objectives (OKRs) process
How to design an effective organizational health metrics dashboard
How to drive smoother strategic execution at scale
Throughout the program, we assign reading and reflection exercises, have regularly scheduled mentoring sessions, and are available to answer your client-specific questions and scenarios. We also seek to have a lot of fun while doing it.
How Much Does It Cost
The initial training fee is borne by the first client you invite into the program. If you wish to continue in the program after the first client, you pay the annual Designed to Scale Coach level membership fee. There are no additional fees. You can cancel the membership program at any time.
How Long Does It Take
You should budget twelve to eighteen months to complete the full certification program. Here's how that breaks down.
Months 1 to 3: The initial training period, where we are working with your first client directly and you are in the observer's seat, lasts about three months.
Months 4 to 18: During the remainder of this program, you are now in the foreground working directly with your clients and we are in the background, providing you with mentorship and support as you master your craft. You must maintain your membership in the Designed to Scale Coach Membership tier throughout this term.
Once you have successfully coached three additional clients with our mentorship and support, and we have verified your performance with these clients via survey, you can now elect to take the full Organizational Physics Certification Exam. If you pass, you will receive a certificate of completion and you will be able to call yourself a Certified Organizational Physics Coach.
If you cannot successfully complete at least three additional clients within eighteen months of starting the program, you will not qualify to take the certification exam.
How Much Can I Earn
As an independent contractor, you set your own rates. You should expect to charge a minimum of $15K USD per month for the types of services you can offer your clients in this program.
What Happens Afterwards
The spirit of this program is to "teach you to fish." Meaning, once you have completed the full program, you shouldn't need much support from us because you will have become a master of the craft. That said, as long as you are active in the membership program, you will have access to support if needed.
How to Apply
To apply for this program, schedule a call with Lex.