There have been a lot of exciting developments in private space travel this month. Elon Musk, Jeff Bezos, and Richard Branson, through their respective companies, are all making consistent and visible progress towards developing space-based private enterprise. I'm sure that much of the social media world is rolling their eyes at "billionaires and their toys," but regardless, it is amazing to witness what humans can accomplish over time when they have the commitment, vision, and resources to make it possible. Blue Origin's motto, Gradatim Ferociter, meaning "step by step ferociously," captures the spirit very well.
The picture above captures the spirit of progressive innovation. The image on the left is the Wright Brother's flight at Kitty Hawk. The image on the right is Neil Armstrong's moon walk. Without looking up the dates, if you had to guess, how much time would you say it took humanity to go from the first "airplane" flight to putting a man on the moon and returning him safely to earth?
….
Just 66 years! Totally bonkers, right? It leaves me wondering what the next 66 years will hold for humanity. In some areas we've made mind-boggling innovations and progress and in other areas, we seem stuck in the dark ages.
So my question to you, as a visionary entrepreneur yourself, is this: What's your rocket? What's the vision of your company and how will its success help to up-level the whole? And critically—because vision without execution is just a dream—are you currently organized to ensure that your business accomplishes its mission and without compromising its core values? And even more critically, as the leader, how are you thinking about the organizational design challenge as your company scales up?
To get a sense for what I mean, and how to think about this challenge, I'd like you to imagine that you are in the shoes (spaceboots?) of an Elon Musk, Jeff Bezos, or Richard Branson and you are attempting to launch and scale a space-based company. Now, this analogy may seem very far removed from your own business today, but just humor me. The challenges faced by every expansion-stage entrepreneur are fundamentally the same, regardless of the vision or business model. And the mindset used to solve these challenges successfully is also the same.
Launch Day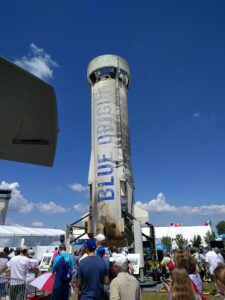 It's launch day. Out on the tarmac the rocket sits, gleaming in the morning sun, pointed towards the heavens, with its payload ready to blast into orbit. As the founder and CEO of Rockets R Us, you've got a lot riding on this. It's your company's inaugural commercial launch and you await the event with nervous anticipation. As the countdown clock commences, you can't help but reflect on what it took to reach this point. The launch coordinator announces over your headset, […]