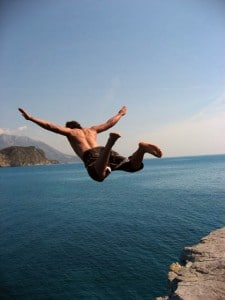 Before a startup ever launches, you should have a checklist of critical items in place. These items have nothing to do with writing a business plan or forming the articles of incorporation. In line with the old saying "well begun is half done," without these basic requirements, the venture won't get off to a successful start. Even worse, ignoring this checklist can lead to your investing a lot of capital, time, and energy – only to find out that you're doing the wrong thing, with the wrong team, at the wrong time.
The Real Difference Between Startup and Pre-startup
I'm going to define the core difference between startup and pre-startup using a single word: commitment. Commitment means that the entrepreneur and founding team have taken a real risk to make the business happen. They are clearly and unequivocally in. It's Dodge City or Bust. Without commitment, the venture will remain stuck in pre-startup mode – as an idea that will never be actualized.
For example, I recently had coffee with an old colleague who wanted to talk about his new "startup." He had written a business plan, registered a domain name, and was seeking advice on raising capital and building the technology. He was still working at his day job, where he planned to stay while building on the idea in his spare time. As we talked, I could tell that what he really wanted was someone with whom he could discuss the idea – to explore it further and get another perspective. He was still just trying it on and not yet fully committed.
You can always tell if someone is committed to a new venture by his or her actions. Have they taken a significant risk such as quitting their day job or putting their own money into it? Are they excitedly and constantly talking about the opportunity? Are people rallying around their cause and vision? These are all great signs of commitment – and that's when you know you're in startup mode. With them, a new business can be born and has a chance of success. Without them, you're still in pre-startup or it's a non-starter.