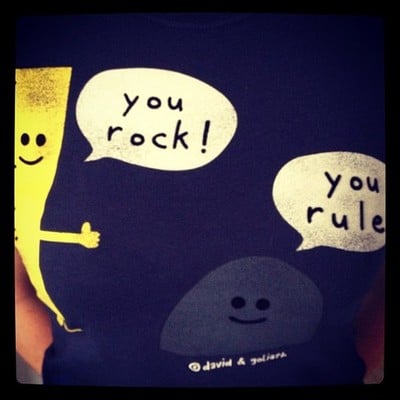 There are few things that will bring as much power and benefit to your personal and professional life as the practice of quietly appreciating the strengths of others.
To drive this point home, I'd like you to recall a time in your past when you weren't accepted for who you are. Maybe this was within your family of origin, in a work setting, at school, or even on a sports team. C'mon, I know you have at least one period in your life like this. When was it?
From your vantage point today, wasn't that experience exhausting? Didn't you spend more time and energy worrying if you'd ever fit in than you did on working towards your goal? Didn't that period in your life pretty much suck?
You're not alone. A recent Gallup Research poll shows that employees who feel accepted by their managers and peers feel highly engaged in their jobs while those who get negative feedback (or even worse — are ignored all together) are actively disengaged: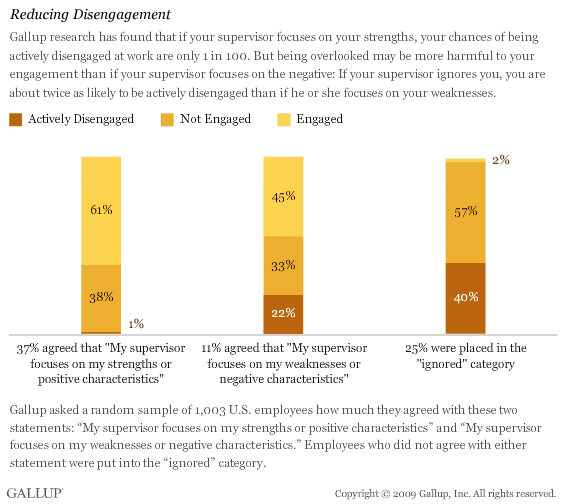 Source: Gallup Research.
It doesn't take a genius to realize that higher engagement leads to higher productivity, creativity, and job performance. When we don't feel accepted for who we are and we don't have the opportunity to play to our strengths, it costs us a tremendous amount of energy and saps our productivity and morale.
By the way, I think this experience is pretty common for entrepreneurs. Many of us felt like we didn't fit into the existing structures and so we create our own. But that's for another story.
Now I'd like you to imagine something different. You're a fly on the wall at ACME Corp. ACME is an average-performing company with an average culture.
From your vantage point on the wall, you observe that, while everyone is professional and polite on the surface, they seem more focused on what's happening within the company itself than in how to kick ass in the marketplace.
Specifically, you notice an undercurrent of subtle "shoulds" that the colleagues at ACME hold towards each other. True, nothing really damaging is said outright. It's usually couched in language like this:
"Sure, Sam is a visionary but he can't manage his way out of a paper bag. He should be more detail-focused and a little less erratic."
"Sarah is a great programmer but she's moody as hell and only works on what she wants to work on. She should be more of a team player."
"Yes, Mark is a good project manager but he's not really in tune with where the market is headed. What we really need is break-out thinking."
"Linda is smart as a whip but she's a bulldozer. I wish she were more aware of how she impacts those around her."
Can you […]