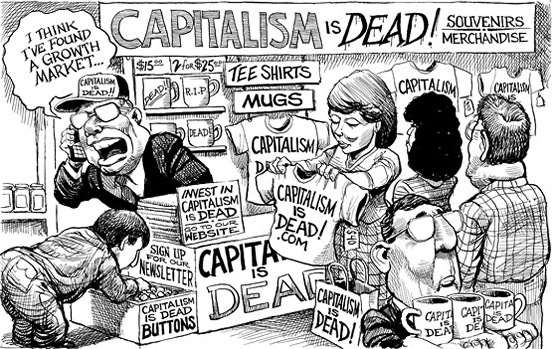 I originally published this article in January 2011 but it seemed like a good response to this question. The bottom line is that if humanity is going to survive and thrive, we must restructure our economy and society towards decentralized local production.
Good managers run their businesses by the numbers. But imagine for a moment that your business is Earth. As the manager, you're responsible for hitting your quarterly and long-term targets. These include providing increasing levels of prosperity, health, and happiness for all of Earth's inhabitants, managing the use of non-renewable resources, and ensuring that future generations of stakeholders thrive. You run a dashboard report and here's a scan of what you're working with:
– The human population is forecasted to reach 9 billion, up from 6 billion in just forty years.
– The American middle class, once a driver for economic prosperity, is in rapid decline.
– More than 80% of sewage in developing countries is discharged untreated, polluting rivers, lakes, and water supplies.
– Antibiotic resistance is increasing, posing a major threat of new super diseases.
– Nearly 70% of the world's fish stocks are depleted or over-exploited.
– The rate of species extinction is now 100-1,000 times greater than suggested by the fossil records before humans.
– The world is getting hotter, the ocean is 30% more acidic than 260 years ago, and extreme weather events are intensifying.
You stop reading, knowing that you could spend a lifetime just reviewing the statistics. Your own gut (something you've come to rely on as a good manager) also tells you something is off. Modern life just doesn't seem that high functioning for most of those in your home country. Everyone has more technology, more pressure, but less overall happiness. It's time to take action. What do you do?
Like any good manager, you take the stats and group them into a pattern. As you scan across the many sectors of the Earth's man-made systems, you notice something suspicious. No matter what the sector – food, water, health, technology, government, finance, entertainment, trade – you notice a consistent trend. Everything follows the same pattern. It looks something like this: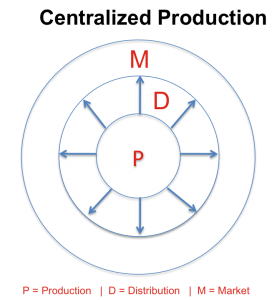 Centralized production occurs where production is owned and controlled by large producers or aggregators of goods and services which are in turn distributed to the market and made available for sale. And therein lies the problem and the solution.
The problem is this: In order to be more efficient, production always becomes more and more centralized. This makes sense. Organizations try to make the most use of their resources. By getting larger and more systematized, they are able to acquire more resources more efficiently, achieve economies of scale, and have a better chance to […]