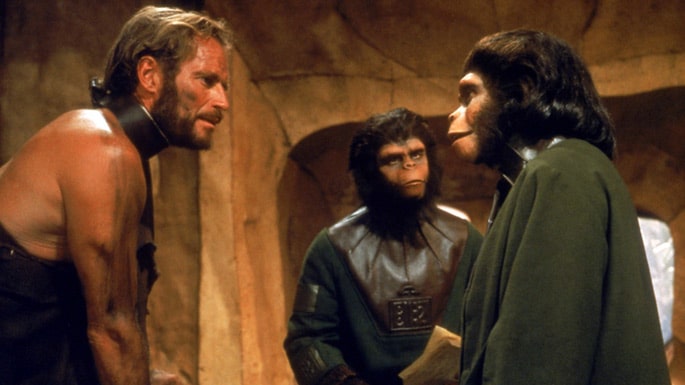 Sales vs. Marketing. Who's the Ape? Does your head of sales think your head of marketing is an imbecile — that they just don't "get it" and aren't doing the right things to drive qualified leads for the sales team? Or perhaps your head of marketing looks down his nose at those "apes" in the sales department who constantly demand more results but don't understand the strategic aspects of real marketing, not to mention the time and money it costs. Sheeezh.
You may not be surprised to hear that this tension between sales and marketing is common. The truth is that, by nature, their functions will always be in tension or conflict. One is short-range-focused, with a drive to close qualified leads NOW. The other should be long-range oriented, developing the brand and product offering to meet evolving customer needs in the future – not just this quarter's targets. That conflict is never going to go away. And the point I'm going to make in this article is that it can be harnessed.
There is an easy way to address the conflict between sales and marketing and make it constructive for both growing sales and building the brand. It does, however, take awareness and discipline to do it well. The solution is to refocus and get alignment between sales and marketing on the most important question every business must answer: Who is your primary customer? You might think this is obvious, yet a surprising number of B2B marketing companies overlook this step. Or don't do it adequately.
Who is Your Buyer Persona?
A "buyer persona" is a semi-fictional representation of your ideal customer — the real buyers who influence or make decisions about the products, services or solutions you market. The buyer persona sits at the nexus between sales and marketing. Defining or redefining the buyer persona is a high-leverage activity that takes the strengths and insights of both marketing and sales. It allows them to come together, focus on what's most important, drop what isn't, and then get busy driving sales and building the brand.
Why is this? Well, if you can get alignment between sales and marketing on who the primary customer is, then everything else is tactics. The tactics refer to the best approach to reaching this primary customer, and this is open for trial, error, and team learning. The tactics may change, the shared goal remains the same.
If you don't have clarity and alignment on who the primary customer is, however, there will be rampant disagreement across the board. The sales and marketing teams will fight about the little things because there's no alignment on the big thing. And even if your current marketing tactics are working relatively well, they won't be […]