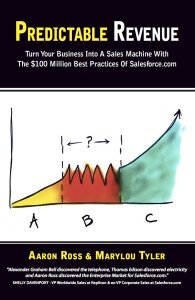 "We believe that the future standard for all executive teams will include a head of Customer Success who's on the same level as the head of Sales, Marketing, and Demand Generation." – Aaron Ross
If you run a software-as-a-service (SAAS) business, you might already know about the core concepts behind Aaron Ross and Margaret Tyler's book Predictable Revenue. Aaron Ross learned his craft as the head of customer acquisition for Salesforce.com and this book seems to have become the hot new bible for scaling up the revenue side of a SAAS business.
The main theme of Predictable Revenue is that the single most important thing a SAAS business can do to scale revenues is to segment its Sales roles into distinct focus areas and also to create a new role in the organizational structure called "Customer Success" that is dedicated to making existing customers successful and driving renewals.
Lately, I've been getting asked frequently in my consulting practice about how to structure the Customer Success role. My sense is that there is some confusion out there about the distinction between Account Management and Customer Success. In this article, I'm going to show you how to use the principles of Organizational Physics to actually structure the Customer Success role so that your own SAAS business has the greatest probability of realizing its potential.
Role Segmentation: Always a Good Idea
Predictable Revenue argues that the major role of Sales is actually four roles that need to be segmented in the organizational structure:
"Inbound Lead Qualification" to qualify new leads coming into the business;
"Outbound Prospecting" to create and qualify new sales opportunities and then pass them to Sales or Account Executives to close;
"Account Executives or Sales" that close deals and carry a quota;
"Account Management/Customer Success" which is a role dedicated to making existing customers successful and driving renewals.
Does it make sense to segment these different sales roles? Absolutely. In fact, you should define and segment all of the major roles and most of the minor roles in your entire business — not just sales.
Segmenting by roles greatly supports scaling your business. It helps to create role clarity and accountability. It allows the right style of people to focus on the most important things for their roles. It significantly improves the hiring process. And with the right management process, it can significantly increase execution speed.
Predictable Revenue encourages the segmentation of sales roles earlier than one might think and I totally concur — but again, for all roles. Technically I would start to think through your organizational design and role segmentations in the mid- to late Nail It stage of business development. Heck, it doesn't even cost anything to segment by roles if you don't have the budget […]