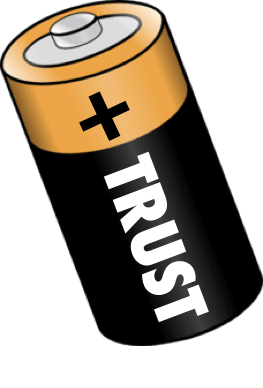 In a recent New York Times interview, Tobi Lutke, CEO of Shopify, used the term "trust battery" to refer to something that we're all familiar with but we may not always articulate well: monitoring the current level of trust between people.
As you undoubtedly know, there are few things that can hinder success in an organization as much as a lack of trust. Using the metaphor of trust battery is a clever way to think about and communicate the importance of trust in your organizational culture and using it can make some hard conversations easier too.
Here's how the trust battery works…
Every time your work with someone, the trust battery between you is either charged or discharged. When the trust battery between you is high, then the work gets done smoothly and quickly. When the trust battery is low, everything deteriorates.
When you start working with someone new, like a new hire, then the trust battery between you is charged at about 50 percent. You're not really sure what to expect but you also give the benefit of the doubt and try to keep an open mind. Over time, if your interactions are positive, the trust battery fills up. If not, it drains.
Depending on its level of reserves, the trust battery can drain slowly or quickly. If you've worked with someone for a long time, have many positive shared experiences and a high degree of trust, then even if this person starts acting differently, the trust battery will drain more slowly. "Hmmmmm, Sam doesn't seem like himself lately. He's always been on time and now he's late. I wonder what's going on with him? I better check in and see if he needs anything."
On the other hand, if it's a relationship with low trust reserves already — like a new hire who clearly doesn't cut it or a long-term relationship with a history of negative behaviors — then that battery drains very quickly. "Damn that Sam. He's never delivered and he never will. He says one thing and does another. Why hasn't he been fired yet?"
The trust battery works between groups too. For example, in your own organization, have you examined the trust level between sales and marketing? How about between customer service and engineering? Or between the CEO and the rest of the company? If you sense that the trust battery is running low between groups, I can almost guarantee that your company it not executing to potential – and it would be wise to take corrective action.
To be sure, we all have an intuitive sense for this already – it's just how humans work. But calling it out makes it easier for everyone in your culture to understand and model. It also makes having difficult conversations easier […]