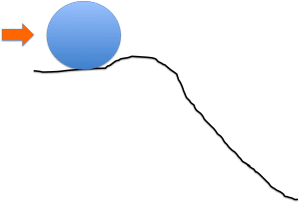 Every business has mass, which is a measure of its resistance to change. The challenge in getting an organization to change direction is the fact that its mass isn't neatly self-contained. Rather, it's scattered throughout its people, systems, structures, and processes – and the collective inertia causes resistance to change. In order to get the organization to execute on its strategy, you've got to get the mass contained and headed in one direction.
Having aligned vision and values, as well as an aligned organizational structure, is the first step. If you have misalignment in these areas, then no matter what, you're not going to get very far. At the same time, alignment in vision, values, and structure alone won't cause the business to move. They just help to hold the mass together and keep internal friction low. Making the organization come alive and move quickly in a chosen direction requires that two things be done well: making and implementing decisions. In fact, the secret to organizational momentum lies in continually making good decisions and implementing them quickly.
The Most Important Process in Your Business
Every business relies on multiple processes (sales, customer service, finance, product development, marketing, etc.). These can be highly visible or nearly invisible, organic, haphazard, detailed, flexible, constant, or changing and either a boon or a burden. When a process is performing well, it allows the work to get done better and faster. When it's not, you feel like you're swimming upstream.
While your business has many different processes – some working well and others maybe a total clusterf#@*k – it's the process of decision making and implementation that's most critical to your success. Why? Because at the most fundamental level, a business is simply a decision-making and implementation system. Think about it — every problem and opportunity require a decision to be made (and yes, deciding to do nothing is a decision too) and a solution to be implemented. If the business does this well — if it continually makes good decisions and implements them fast — then its momentum will increase and it will be successful. If it does the opposite — if it makes bad decisions, or if it makes good decisions but implements them slowly, or my personal favorite, makes bad decisions and implements them quickly — then it will fail. Just as a haphazard sales process results in lost sales, poor fulfillment, and an inability to scale, a poor decision-making and implementation process results in poor decisions, flawed implementations, and an inability to scale the business.
What's ironic about the process of decision making and implementation is that most businesses don't even think of it as a process. (In case you're asking… decision making and implementation are not two distinct things. They're […]