Strategic Execution Coaching: How to Scale-It Like You've Done It Before
The Strategic Execution Coaching Program is for CEOs of expansion-stage companies who have a significant growth opportunity to capture. Using a combination of online software and one-on-one coaching, we guide you to free yourself from low-value activities so that you can spend more time working from your Genius ZoneTM and create the most enterprise value for your business.

In a picture, Organizational Physics guides you, step by step, to play to your strengths and passions while simultaneously leading your company from the
Nail It
stage of business development through the
Scale It
stage of business development as shown in the picture below:
Here's another picture and an alternative way to look at it. Strategic Execution Coaching helps you to drive your business up the lifecycle stages into a zone of growing revenues and profits (the dotted circle below). Then, from this position of strength, we guide the business to structure and prioritize the launch and development of new business units that will in turn go through their own lifecycle stages for sustained, profitable performance over time, like this:

Is the Strategic Execution Coaching Program Right for You?
An ideal client for this program is an expansion-stage CEO in the early to post-Nail It stage of business development (typically $30M+ in annual sales and a Leadership Team of 7+) with a huge market opportunity to capture, if they could just execute on it swiftly enough and not fuck it up.
An ideal client also has some battle scars. You already realize that things are very different at scale and you're headed into uncharted territory again. At the same time, you still have the desire and wherewithal to execute on your vision, if you have the right support and insights.
Here's an example. Below is a simple picture that contrasts how we're conditioned to think about success versus what the journey of success is really like: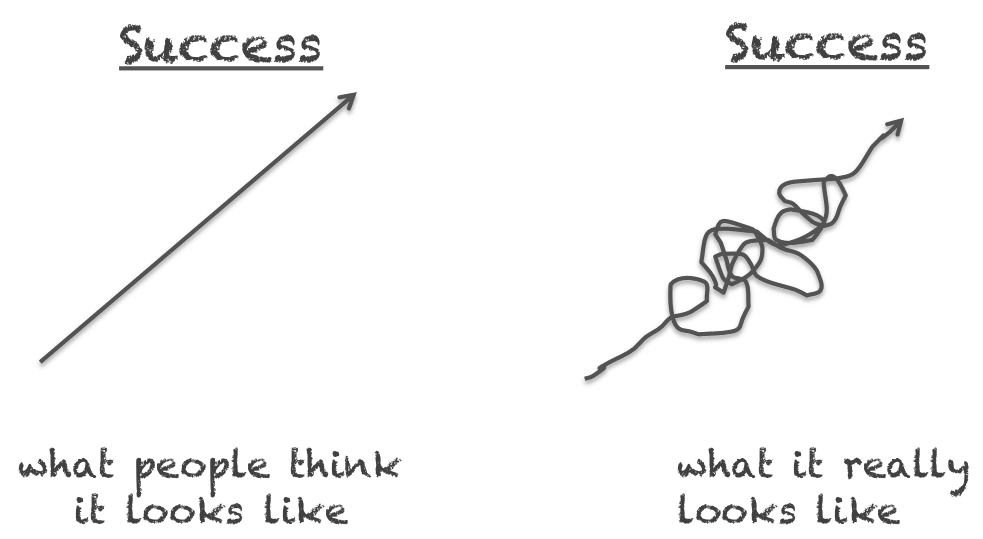 Basically, if you're wound so tight in the right arrow that you don't have any extra capacity to think, learn, plan, and grow, then Organizational Physics is not a fit for you. If you're operating smoothly with no apparent problems, as in the left arrow, it's not a fit either because you just won't be open to change (no offense; it's just human nature).
In order for there to be a good match, you need to have some pain or friction in the business, the stakes need to be high, and you must have the capacity and the commitment to invest in yourself and the business to make a transformative shift.
We Get What You're Going Through
Although we haven't met, if you're an expansion-stage entrepreneur, then we probably know what you're going through.
While every situation is unique, some of the broad brush strokes are: You are suffering from uncertainty about what, specifically, you should do next in the business and why. There's likely some critical area that isn't working as well as it needs to in order to scale, but you're not sure exactly how to fix it. You are probably also stuck in some low-value, energy-sucking activities that are negatively impacting your life and relationships. Or if not, you're battle-tested and wise enough to know that you want to avoid these pitfalls in advance.
How do we know this? Because we've been there ourselves. There's nothing more exhilarating than leading a fast-growing company. There's also nothing more frustrating than dealing with a business that has friction gumming up the wheels when the pressure to move fast is really on.
If you're like us, then what you want above all else is certainty about what steps to take, in what sequence, and why. You seek a proven, systematic approach to organizational development that simultaneously lowers any sources of internal friction that can cost the business its market opportunity. And you desire to get back into your strengths and passions because you intuitively recognize that if you're not at your best, then the business isn't going to reach its potential.
At Organizational Physics, we've designed an amazing program that does just that. But before we explain what it is and how it works, it's important to first understand why we do what we do.
Why We Do What We Do
There are 2 big reasons why the Strategic Execution Coaching Program creates systematic breakthroughs that lead to sustained business performance.
1) The Value of Getting in Your Genius Zone
You've probably realized by now that a core tenet of what I preach is that everybody should strive to play from their strengths and passions, and especially leaders. After ten years of entrepreneuring and searching for models and frameworks that make the complex simple, I ultimately realized that while I was a pretty good visionary-style CEO, I am an absolute genius at coaching.
I'm not saying this to be boastful. The fact is that everybody is a genius at something. My "thing" just happens to be coaching, teaching, and collaborating with smart, talented, ambitious entrepreneurs. CEO coaching for me, combined with the design and process of this program, allows me to bring my whole self into my work with my clients and access deep sources of creativity, passion, and intuition. When I'm in the flow, it's pretty fricking awesome and I try to spend as much time in that zone as possible.
I love coaching because it doesn't even feel like "work" to me, even though I'm always working. I get to be in my genius, really listen to my clients, guide them over or through obstacles, and develop deep friendships. Clients love it because they get the support and perspective of a true expert who's in that rarified air of doing what they're truly called and meant to do. When it works, it's a win-win, energy-adding combination for everyone involved. We all want more of that.
I bring this up to point out that you are a genius at something too. And as an entrepreneur, if you design your business in the right way (and I'll show you how), you leverage your strengths and passions to scale the business and create the most enterprise value and a positive impact for everyone involved. In fact, unless you're scaling from your Genius Zone, your business isn't going to truly scale.
2) We Love It Because It Works
I spent a long time trying to find the best ways to teach and integrate what an expansion-stage entrepreneur needs to know and do in order to scale their business. I've found that the right combination is a mix of online collaboration software plus the support of one-on-one coaching. The software provides the framework to follow and the coach provides the accountability, perspective, and reinforcement. It's a powerful one-two combination that systematically eliminates obstacles and catalyzes the next stage of business growth:
A $40M biotech start-up was struggling with management execution and coordinating across multiple geographies and product lines. The founder was a thought leader with a research background who definitely understood the technical side of his business. He was also a first-time CEO, however, and he was naturally overwhelmed with internal operational issues at scale, despite having a COO to support him. By better defining the next stage strategy and implementing a new organizational structure and design, this same CEO took the business to more than $100M in sales in under three years, with very lucrative margins. As of this writing, he has received two competing multi-billion ($B) buyout offers.
A $150M publicly traded consumer goods company was attempting to seize a new market opportunity but found itself going up against much larger, well-funded competitors. It had to innovate new product offerings while bringing together a complicated supply chain and distribution model. Of course, it also had to maintain and improve GMP quality standards. Using Organizational Physics, the company redesigned its structure, accelerated its execution speed on the new opportunities, won several best-in-category awards, and grew to become the number 1 or 2 competitor in its categories. The company is now valued at more than $1B and they are expanding into new international markets from a very strong foundation.
A five-year-old venture-backed start-up was growing fast and had reached 300 employees. But as it grew, its internal execution got more complex and things started to bog down. Inside the company, one part of the business was fighting against the other. There was also a lot of conflict between members of the founding team and new senior-level hires brought in to help the company scale. As a result, sales were flattening. By implementing Organizational Physics, this company created a new structure with clarified roles and responsibilities to support the expansion strategy. They also implemented an improved management execution process to bring the structure alive. The results? Internal infighting plummeted, velocity increased, and revenues were up 60% within 9 months.
A $15M a year venture-backed start-up was struggling with focusing its strategy and attracting new senior leadership. Working with the CEO and leadership team, we put in place a quarterly 1-page strategic execution summary that clarified the strategy, accountabilities, 90-day-, 1-year-, and 3-year-priorities, and the core ideology. We also redesigned the organizational structure, put in place a new management process, and helped to recruit and integrate a VP of Sales and a VP of Operations. Three years later, the company more than tripled its revenues and is on track to hit $100M in sales.. At the same time, the company founder and CEO went from spending 10% of his time in his Genius ZoneTM to spending over 80% of his time in that zone.
A 5-year-old company had been losing money since its inception. It had a strong culture but was suffering from customer turnover and too many competing priorities, with no way to manage them effectively. In three months we implemented a new go-to-market strategy, restructured the company for clearer accountability, and streamlined the decision-making and product development processes. The result? The company reached cash flow profitability for the first time and is on track to reach $50M in sales and 30% EBITDA this year.
A 9-year-old venture-backed software-as-a-service (SAAS) firm with $10.5M in sales in 2013 was stalled in its expansion strategy. Sales were growing but not nearly fast enough. After six months of searching, the company was 0 for 3 on making critical key hires including a Director of Engineering, a COO, and a VP of Marketing. The board was getting impatient and making rumblings about replacing the founding team. The founders themselves were feeling ambivalent about the business. In three months, we realigned the founding team and helped them rediscover their original passion. We created a new environment for faster execution and uncovered the real market opportunity. The result? The company found and hired three new A+ executives and its momentum is accelerating. Its forecast is to more than double sales in the coming year.
The regulatory market changed radically on a $35M Inc. 500 Fastest Growing CompanyTM. Using the the Strategic Execution Coaching Program, we identified and executed on a new pivot strategy. While its two largest competitors went bankrupt, our client had their most successful quarter ever. In addition, the founder freed himself up significantly from his old role of managing daily operations to his new role of creating new marketing campaigns and developing new markets (two things that he loves to do and add the most enterprise value to the business).
A $30M medical device manufacturer engaged Organizational Physics. The company was having a hard time making the leap from a founder-led organization to a well-coordinated execution machine with multiple global offices. One year later, with the founder operating still as CEO but now much more in his Genius Zone and with the a structure and management process to support it, the company doubled in size to $60M. At the same time, it increased its operating profit margin and management capacity. Soon after, it received a $240M+ buyout offer, scoring a very high return for its shareholders.
A 20-year old software company had gone through a very challenging period and sales were flat. Its legacy product quality had suffered as a result. At the same time, the market was changing and it had to innovate to capture a closing market window. We clarified the strategy, put in place a new structure and management process, and built a new product management system. Within nine months, the company had transformed its product quality on its legacy product to meet client expectations. Simultaneously, the company scoped and launched a new innovative product that sets it up for success for the next generation. Revenues were up 18% within 12 months. More importantly, the culture has pride and is excited for the future.
What Other CEOs are Saying:
"A year on after the Organizational Physics Strategic Execution Coaching program, we have managed to achieve our ambitious goals and employee engagement within the business is equally high. Between finding the book, connecting with the author and now having a coach engaged on the growth stages of the company, our time with Lex comfortably goes down as the best investment we have made during our transition into scale at Yoco."
– Katlego Maphai, Co-founder & CEO, Yoco
"In my experience, Lex Sisney is a genius when it comes to organizational structure — how to design a business so it can grow with the right people in the right seats with a structure that "pushes authority down" whenever possible. Our company is in a totally different place than it was before our work with Lex. Our digital products division had a $2 million positive swing in its bottom line in just one year's time. And our leadership team now consists of an engaged group of 13 people (many of whom were promoted to their new roles during the restructuring process) with a very high level of commitment, clarity, and "shared consciousness."
– Tami Simon, Founder & CEO, Sounds True
"When we hired Lex, our company was 5 years old with 300 employees. We had never taken a hard look at how our functions were laid out or who was responsible for what. Lex's framework, Organizational Physics, gave all of us a lens to think about how we could make our structure better support our strategic objectives. During a 2-day offsite, Lex helped the entire team discover what was holding us back and where we really wanted to focus our energy. Finally, he helped us implement a decision-making process that has freed us to make big decisions and move faster. My hope was that he would help us accelerate our velocity and he did exactly that — just nine months later our revenue is up 60%. The kind of work that Lex does is not easy but it is well worth it."
– Issac Oates, CEO, Justworks
"Lex and Organizational Physics took us from a $150 million dollar start-up to a $1.5B business. Our start-up had grown quickly from just me and my co-founder working in a basement to $150M valuation. But we had grown so fast that we had outgrown our structure, management processes, and lacked a strategy to keep growing. Lex gave us sound principles, led a major company restructuring, changed the way we meet, think, and make decisions, and gave us the tools to become a "Unicorn." I'd say Lex's help is invaluable. But in our case it was worth a billion dollars! If you're dealing with similar complexities in scaling your own business, I highly recommend speaking with him."
– Adam Miron, Co-founder & Chief Brand Officer, HEXO
"Lex is a trusted and wise counselor who has found a way to apply the laws of thermodynamics to any business or organization. His framework is like an efficient machine code that is useful in any environment. Lex has helped us simplify our organizational structure, dramatically improve intra-company communication, and operate more effectively. Perhaps most importantly, Lex has helped us to find better ways to serve clients. This has contributed to a near doubling of revenue and company size in 12 months."
– Michael Chambers, CEO, Aldevron
"The results of collaborating with Organizational Physics have been transformational. We have a much flatter organization with a highly energized management team. We executed "entropy reduction projects" that greatly increased the quality of our products and responsiveness to our customers. We also redefined the markets for our products from a $60M niche market to a $300M+ market with potential for further growth. Lex has a unique blend of experience, critical thinking, tools and boundless energy. If you want to grow your business, energize your people, build a great culture and have fun while doing it, then I highly endorse and recommend Lex Sisney."
– Bob Reback, CEO, Cimetrix
"As a leader, is your team organized and aligned to perform optimally for your company? Are your key players in a structure where they can succeed for themselves and for you? Do they want to? Does everyone know the game plan, how they fit into that plan, and how to succeed as an organization? Lex and Organizational Physics will give you a proven framework to optimize your company and ensure that you can execute more seamlessly and powerfully to achieve your goals faster and get results you previously only dreamed of. Don't take chances. Don't learn the hard way. You don't have time. Get the answers that have helped hundreds of leaders worldwide improve the performance and happiness of their organizations from a proven innovator who gets real results with real companies like yours everyday."
– Justin Bellante, CEO, BioIQ
"Lex offers great strategic guidance and an outside perspective that helped move my organization to the next level. Lex led an executive team offsite for my company and also worked with me in advance to help guide me in refining my vision and goals for the company. During the offsite, the team was given the opportunity to assess our current competitive, operational, innovative and financial situation. It was a safe place for them to voice their opinions and an unusual chance for me to hear candid input. From there, the team worked together, with the help of Lex's well thought out process, to decide what our priorities would be moving forward. We also created a new structure, metrics, and an improved decision making process. The result was a plan that was clear and the team was committed to making it happen. We did it again a year later to hone our skills and further build our team. The model works! The company has since grown more than 30% and our culture has never been stronger."
– Jean Thompson, CEO, Seattle Chocolates
"Lex provides insight and guidance that you could only get from someone who's walked in a CEO's shoes. His method, Organizational Physics, is a no-nonsense approach to building a solid structure that allows for scalability and success. All you need is a business with potential and Lex will provide you with the tools your company needs to get to the next level and beyond."
– Kelly Foy, CEO, Elite Meetings International, Inc.
"Working with Lex is making a HUGE difference in the growth of my business. He has developed powerful frameworks to view the entire business lifecycle that are extremely practical. I am able to move much faster, make decisions quickly and chart both near and long term because of our work. Lex is a great compass and sounding board. Lex is an extremely accomplished Entrepreneur and very humble, a combination that I admire immensely. I am grateful for the opportunity to have Lex as a trusted advisor/friend/mentor and coach."
– Seth Epstein, Emmy Award-Winning Producer and CEO of LosYork
"Lex, in seven months of executive coaching with you I have added an equivalent of $87 million in assets under management, and increased billable fees by 40%. I have discovered where my power comes from and experience more confidence, clarity, and an ability to view my life almost constantly in a positive way. Our engagement has been successful beyond my imagination, and I could not have achieved any of that success without your guidance. Thank you."
– Kelly Smith, CEO, Certis Capital Management, Inc.
"In the midst of our pursuits, we too often fail to step back and ask obvious but important questions. What really am I trying to accomplish? How do I define success? Where am I expending energy and not seeing a return? Organizational Physics helps answer those questions by providing a framework for breaking down your business (and life) to its functional core. In a wonderful marriage of Eastern and Western philosophies, science and art, Lex's revelatory approach allows you to assess your circumstances and take decisive action. It is impossible not to reap massive rewards from spending time with Lex – and, having worked with him, I can say without fear of overstatement that humanity would benefit if everyone followed the principles he puts forth."
– Ophir Tanz, CEO, GumGum
"The Organizational Physics model, and Lex's coaching through it, helped me to understand how to match our product with the right customers and the right internal resources. This enabled me to build consensus at a challenging time, while winning some key deals through a product repositioning. Lex was always helpful and positive. His experience as a CEO really made a difference. He usually understood my perspective quickly and accurately. I will always keep Lex's tools in my toolkit."
– Ed Stevens, CEO, Shopatron
"When leading an Inc. 5000 fastest growing company, you know the importance of hiring the right people. The steps Lex describes in How to Think About Hiring, combined with the assessments contained within the PSIU Talent Management Suite, have helped us revolutionize our hiring process. The results, when compared to our earlier methods, are tremendous. We're clear on the type of person that would be most successful in the new role. We then use the report as a guide for doing a deep dive in our interview process. This is helping us ensure that the people we hire are both successful and happy in their new positions. As far as I'm concerned, it's a game changer."
– Jeremy Ames, President, Guidant Financial
"Lex has a unique gift to explain complex ideas and relationships in a way that is spot on! His approach enables you and all your managers to build a mental map of your organization's needs, strengths and opportunities, which then enable you to draft the right person given that environment. It will empower your team with a greater sense of awareness and purpose to find and hire talent that will positively transform the organization. These principles transcend all aspects of my life and all companies I serve. It would be impossible for me to exaggerate the positive impact it has had on our success. If you are building a company, team, career, or family open your mind, fasten your seatbelt. I promise you will be blown away by the results!"
– Pat Cua, Chairman, BioIQ
"When it comes to organizational structure and design, Lex is both guru and a sherpa! What do I mean? After leading the successful merger of two of the leading companies in our industry, I knew that I needed some help integrating two different companies and cultures into one and to supercharge our overall growth. Lex is a leading thinker on organizational structure and design and helped my entire team to see the need and benefit of changing how we operate in a new reality (the guru). Then he helped us to integrate the new structure, roles, and management processes and make it all work well together (the sherpa). The result is that we now have one integrated company and culture that is executing more quickly on its strategy. We could not have done it nearly as fast or as well without Lex's guidance."
Vicki Kroviak, CEO, Monte Nido & Affiliates
Benefits of the Strategic Execution Coaching Program
This is a tailored program, customized to your individual needs and delivers benefits like:
Working More from Your Genius Zone
Identify your Genius Zone and maximize the time you're spending in it
Eliminate energy-draining activities and relationships from your life and work
Experience greater success and happiness across the board
Making the Complex Simple
Gain deep insight into the fundamental principles that govern your business, team, strategy, and execution
Create a common lens so that the entire company buys into what needs to happen next
Deploy a proven system to keep everyone on the same page, hold people accountable, and drive better results
Clarifying and Communicating the Right Strategy
Know which strategy to choose and how to avoid critical mistakes
Identify the top strategic imperatives for the business and business units
Structure your business so that it supports the chosen strategy
Aligning the Team
Create a Strategic Execution Summary to share with the entire company
Define the core ideology and make it come alive
Clarify who is accountable for what
Reducing Internal Friction
Sniff out and eliminate energy drains that harm execution
Improve the company's ability to adapt to changing market conditions
Drive increasing levels of success by systematically reducing friction
Managing Others More Easily
Easily understand the style, strengths, and weaknesses of anyone and know how to influence them better
Align people into the right roles
Know what to expect from an individual or a team even before the work begins
Designing the Organization to Scale
Design the organizational structure and accountabilities to support the strategy
Know the talent gaps and how and when to fix them
Tell who's in the right role and who's not
Tracking Monthly and Quarterly Performance
Utilize a monthly dashboard report that shows how the company is performing to plan
Set targets and KPIs that focus organizational attention on the most important things
Track quarterly, annual, and 3-year performance in a structured way
Executing Powerfully
Increase organizational momentum
Implement the right decision-making tools and balance competing demands
Have clear delegation and accountabilities
Increasing Your Confidence and Peace of Mind
Gain mental clarity and peace of mind in all areas of your life
Always know what to do next (and well before everyone else)
Improve your relationships at home and at work
What's Included in the Strategic Execution Coaching Program?
You will receive a complete online tool set, coaching, assessments, and expert perspective on scaling your team, business, and products to drive overall success and to create clarity and accountability throughout the team. Think vivid clarity, a proven sequence, and faster execution towards all of your personal and professional goals. Specifically, here's what you get:
Product

Description

Online Collaboration Software
The software provides a simple, 10-module framework integrated with Google Drive so it's easy to collaborate with your coach and your management team. You complete each module on your own schedule and review your results with your coach. The 10 Modules are:

Your Genius Zone – Identify your Genius Zone and how much time you're spending it, as well as create a quarterly action plan to be able to do it more.
Your Vision & Action Plan – Identify your life vision and annual, quarterly, and monthly targets that allow you to live that vision.
The Company Core – Identify the company's core ideology, including the core customer, core purpose, core values, core vision, core activities, non-core activities, brand promise, and brand tagline.
Environmental Map – Identify the positive and negative trends that are impacting the business.
Entropy Map – Identify the major sources of internal energy loss, friction, and weaknesses that must be addressed within the business
Strategy Map – Identify where the business is now in its strategic execution, as well as what the top strategic priorities are and who is accountable for them
Targets & KPIs – Identify the key measurements and milestones that tell how the business is performing and who is accountable for them
Strategic Plan – Craft a 1-page plan that describes the above on a single page to publish and share with the entire company
Monthly Dashboard Metrics – Create a monthly dashboard that tracks performance to the quarterly plan
Leadership Team Process Training – Implement the ultimate Leadership Team process for strategic execution and train 1 to 2 train in house facilitators to run that process
OKR Setting – Design and implement next-level Objectives and Key Results (OKRs) for the Leadership Team to cascade alignment throughout the organization

Organizational Structure Design
The right organizational structure design allow you to execute seamlessly. The structure identifies the functions that the business must perform, the "location" of each function in the structure, the authority delegated to each function, and who should be in what role. We design all of this based on your chosen strategy and the laws of organizational structure and design.
PSIU Talent Management Suite
The PSIU Talent Management Suite allows you to accurately identify the style of person you need for any given role in your company and then easily compare it to the actual staff members, team makeup, or prospective new hires you've got in place now. This product goes hand in hand with your Organizational Structure Design. Full access to the suite is included during your term in this program.
CEO Coaching
You and your coach will collaborate as much as you need. Usually this is once a weekly cadence during the initial stages of the program and once every 1-2 weeks in the later stages. However, you may collaborate more or less depending on how well you're tracking towards your objectives or if you're navigating a particular opportunity or challenge.
Leadership Team Process Training
Strategic execution is a team effort and so we place equal emphasis on teaching you to implement the ultimate Leadership Team process for strategic execution as we do on the strategic imperatives and organizational structure and design elements of the program. I.e., it is through your Leadership Team process that the new structure comes alive and you are able to execute quickly against the strategy as a performing team. As part of this process, we also train 1 to 2 in-house facilitators to facilitate your Leadership Team sessions.
The Process
The program fuses together both strategy and execution. Using a combination of online software and coaching, we align the most important things in your business – the team, culture, strategy, targets, key performance indicators (KPIs), and objectives and key results (OKRs), Then we drive strategic execution of the strategy. The result is a better managed company that accelerates momentum and makes a positive impact on everyone involved.
Now, we're not the first consultants to tell you how important it is to work on your business, not in the business, or to play to your strengths and free yourself from low-value activities. But we are the first to create a simple, systematic, individualized approach to accomplishing just that.
Our methods are based on timeless and universal laws of physics, cutting-edge management theory, and our own first-hand experience starting and scaling fast-growing companies. The Strategic Execution Coaching Program is an ingenious way to collaborate, solve challenges, and build a more resilient organization.
While this is a custom program tailored to your needs, there are some high-level objectives that we will need to complete during the first 8 weeks of launching the program. Think of it like laying a strong foundation. Once the foundation is set, it's easy to accelerate and optimize.
Weeks 1 and 2: It's All About You
The high-level objectives in week 1 and 2 are to:
Identify the most significant sources of energy drains and create a plan to address them. Why energy drains? This will make more sense once you read my book but basically, it's physics – and if you fight the physics, you're going to lose.
Identify your Genius Zone and how much time you're spending in it, as well as create a quarterly action plan to spend as much time as possible in that zone. Where are you spending time that is costing you energy and not generating positive ROI? What's our plan to address it and eliminate those non-genius areas?
Identify your life vision and annual, quarterly, and monthly targets and new habits that allow you to live that vision. We begin with the end in mind and then plan backwards to attain that vision. Then we create accountability to execute on that plan.
Identify your current management style, desired management style, and environmental stressors (i.e., how you perceive others feel you should be). The greater the gap between these three areas, the greater the negative stress and job dissatisfaction. The closer the gap, the greater your job satisfaction and capability.
Weeks 3 to 6: Create the Strategic Execution Summary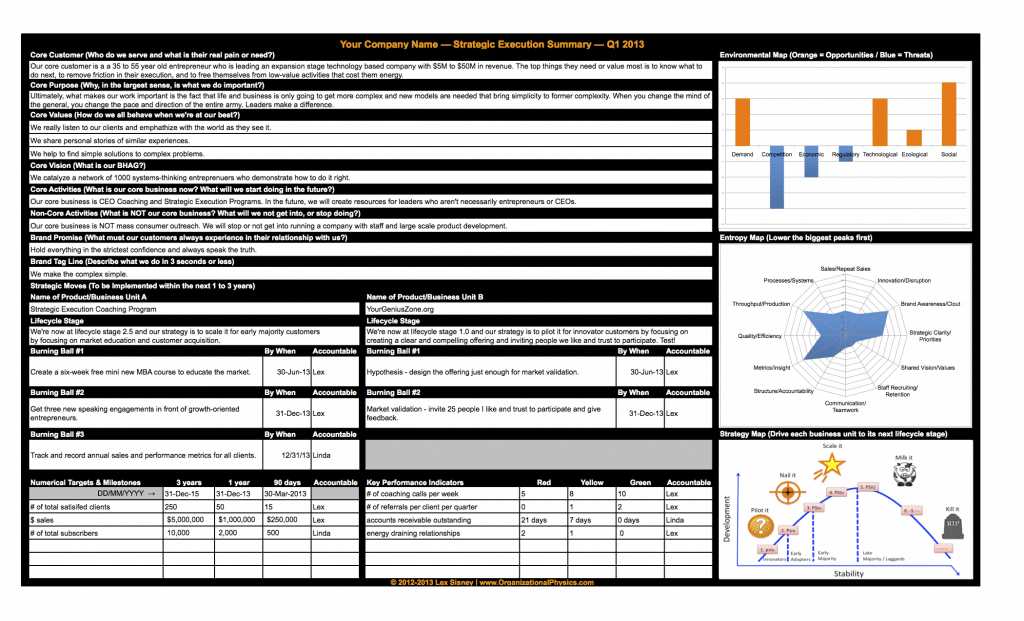 The high-level objectives in weeks 3 through 6 are to:
Identify whether you're doing the things necessary to create optimal organizational alignment within 32 key operational areas. Alignment is the key to rapid execution.
Identify the company's core ideology, including the core customer, core purpose, core values, core vision, core activities, non-core activities, brand promise, and brand tagline.</li
Identify the positive and negative trends that are impacting your business.
Identify the major sources of internal energy loss, friction, and weaknesses that must be addressed within the business.
Identify where your business is now in its strategic execution, as well as what the top strategic priorities are and who is accountable for them.
Identify the key measurements and milestones that tell how the business is performing and who is accountable for them.
Craft a 1-page plan that describes the Company Core, Environment Map, Entropy Map, Strategy Map, Targets & KPIs on a single page to publish and share with the entire company.
Weeks 5 and 6: Design the Organizational Structure
The key objectives during weeks 5 and 6 are to:
Identify the right organizational structure to scale. The right organizational structure and design allow you to execute seamlessly. The structure identifies the functions that the business must perform, the "location" of each function in the structure, the authority delegated to each function, and who should be in what role. We design all of this based on your chosen strategy and the laws of organizational structure and design.
Identify any talent gaps and the new hire priority sequence.
Weeks 7 and 8: Start to Put In Place the Performance Management System
The main objectives during weeks 7 and 8 are to:
Create a monthly dashboard that tracks performance to the quarterly plan.
Train 1 to 2 in-house facilitators in the new Leadership Team process which makes it easier to delegate and improve accountability and performance in your direct reports.
Address remaining open needs including the launch of Objectives & Key Results (OKRs) if the company is ready for them or other key initiatives.
Week 9 Onward: Acceleration and Optimization
Now that the foundation is set, it's time to accelerate execution by bringing it all together with the support of your coach. You and your coach will collaborate as much as you need. Usually this is once a month to check in and optimize performance. However, you may collaborate more or less depending on how well you're tracking towards your objectives or if you're navigating a particular opportunity or challenge.
What's your investment?
Your investment is time, energy, and money.
The money is simple. We price our services based on the value we deliver. After an initial call to determine if there's a fit between us, and based on your individual situation and needs, we'll craft a custom proposal for a 3-month introductory program. Why 3 months? Three months seems to be the right length of time to integrate the foundation within your business and set it up for success. It also allows us enough time and interaction to determine if there's a real need towards a longer collaboration.
Your investment in time and energy is more significant. During the 8-week foundation period, you should expect to invest 3-4 hours per week. This includes coaching calls, reading, collaborating with your management team, and completing interactive exercises and assessments. Think of this initial time investment like a big up-front push to get things rolling, after which we ride the wave of that momentum and need to invest less time (unless a crisis or opportunity emerges and then we work extra to resolve it successfully).
Once the 3-month introductory program is complete, you can elect to continue in the full-term program. There's no obligation to participate. The choice is yours and, if our work feels complete after the first quarter, you've still gained the lasting advantages of the foundation you've built.
What's your risk?
The major risk isn't really a risk at all; it just seems like it at first: You have to risk being vulnerable and reaching out for help. And when you think about it, you'll realize that the world's most successful, happy, and productive people, get a lot of help. They know what they're exceptional at and they create support systems around themselves so they can focus on that – and do it really well.
It's the same thing here. We don't pretend to know your business better than you do, or to be smarter or more creative. We do, however, have a proven, world-class framework to teach and share – and that's why we love what we do. Plus, being on the outside of your business gives us perspective to help you gain more clarity. Finally, we treat your information with the strictest confidentiality because without trust, we'd quickly go out of business.
The other risks are money and time. It's easy to mitigate this risk. Our simple guarantee is this: If you follow our process, complete the exercises, and talk with your coach as scheduled and you're not completely satisfied with the program after the first 30 days, we'll refund your investment in full.

Schedule A Consultation
To learn if the the Strategic Execution Coaching Program is right for you, schedule an introductory call. During the call we'll discuss your needs, answer your questions, and jointly determine if the program is a good fit for you. To schedule your call, complete the form below: