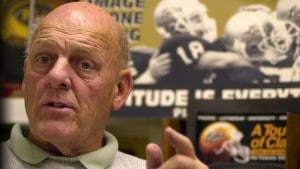 Pacific Lutheran football coach Frosty Westering in his office in Tacoma, Wash. in 2001. (AP Images)
I came across a phenomenal obituary written for Frosty Westering by Chuck Culpepper at Sports on Earth today.
Frosty was the football coach for the Division III Pacific Lutheran football team and he was remarkable. He coached for over 32 seasons without a losing record in any. He never mentioned playoffs or titles to his players but won four national championships and four runner-up finishes on two levels. He died on Friday at age 85 surrounded by a loving family.
Tears welled up in my eyes and my throat got caught when I read it. I want to share this story about Frosty for that reason alone. But I also want to share it because it's a wonderful portrait of a strong Unifier leadership style in action.
The Unifier style is one of four management style dimensions that we all possess to one degree or another. You can read more about these styles: Producer, Stabilizer, Innovator, and Unifier in Part II of my book Organizational Physics: The Science of Growing a Business.
Our best Unifier qualities are our ability to create rapport, understand and motivate others, build cohesive teams, and create sound organizational cultures based on caring, empathy, and loyalty. Without the Unifier force, we would have no ability to respond to change efficiently because the organization couldn't act as a whole.
Let's see how the Unifier force shows up in coach Frosty's leadership style so that you can learn to recognize it, develop it, and manage it in your own life and work:
His players implored him to belly-flop into a California hotel pool, and he complied – at age 75. He once took a running plunge into the mud during a soppy game in Oregon. He adored when players pulled pranks on him, insisted players use his first name – Frosty! – and corrected them if they used "Coach."

He sometimes halted practice to have players spend five minutes gazing beyond the giant evergreens to Mount Rainier. He sometimes halted practice to have players go to other sporting fields and cheer on, say, the soccer team. He always halted two-a-day practices in August and instructed players to go help freshmen move into dormitories.

He believed deeply in singing. His players sang before games, after games. Sometimes they sang to the mock direction of the coach's cane. Always they learned to sing without embarrassment, for it had become uncool to refrain from the refrains. For his 300th win in September 2003, an offensive lineman led the team in James Taylor's "Steamroller." During warmups for the NCAA Division III national championship game […]