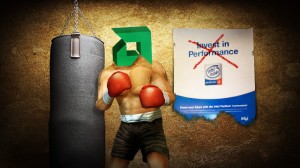 Ars Technica published a great article this week "The rise and fall of AMD: How an underdog stuck it to Intel."
The article follows the rise and fall of AMD over the years in its attempt to wrest a market leadership position from Intel (a war it was never able to win) and gives many anecdotes about the leadership style of the company founder and CEO Jerry Sanders. I want to share this article because it's a good read and because it captures the essence of how a company behaves when a Big Innovator is at the helm.
As you might know if you're familiar with my work, the Innovator style is one of four management styles that we all possess to some degree. You can read more about these styles (Producer, Stabilizer, Innovator, and Unifier) in Part II of my book Organizational Physics: The Science of Growing a Business.
Our best Innovator qualities are our ability to anticipate change and to be imaginative, charismatic, and inventive. Without the Innovator force, we would have no ability to adapt to changes in our environment and we would quickly become irrelevant or extinct.
When the Innovator force is really high, we call it a "Big Innovator" or "Big I." The Big I shows up in some predictable and telling ways, and this description of Sanders is a perfect example:
On June 10, 2000, Advanced Micro Devices (AMD) wanted to party—and party big. The company's CEO, Jerry Sanders, arranged to rent out the entire San Jose Arena (now called the HP Pavilion) and then paid big bucks to bring in Faith Hill and Tim McGraw, the husband-and-wife country music superstars.

Employees "could bring anybody, your wife, your kids, your friends—it was big doings. There were celebrations, gifts and awards," recalled Fran Barton, who served as AMD's chief financial officer from 1998 to 2001. The boss even got in on the fun. "[Sanders] was on a high wire, he did a unicycle ride. It was totally Hollywood. He could really put on a show when he wanted to put on a show."

And why not celebrate in style? AMD's successful Athlon chips—Ars named the Athlon its "CPU of the Year" in 1999—had finally put the screws to archrival Intel, and in 2000 the company earned nearly $1 billion in profits.

By 2005, years of solid chip design and technological execution had the company walking with a swagger, as seen in marketing stunts which challenged Intel's then-current server processors to a "dual-core duel." Nowhere was this attitude more apparent than AMD's 2005 lawsuit against Intel for anti-competitive business practices.
When a Big Innovator feels momentum, there is no greater joy to them than rallying people to their cause and celebrating the realization of their vision. They'll put on a great show, go over the top, and try to get everyone else to feel inspired and "believe" in them and their vision.
But don't confuse the Big Innovator's charisma and charm on stage with his or her everyday style. Unlike Big Unifiers, Big Innovators have no real need to connect with others other than to sell their vision and create a legion of followers. They may seem charming, gregarious, or compassionate on stage, but it's really about selling the vision, not bonding for bonding's sake.
Now let's read more about what happened with the business:
Doubters didn't think the good times could last. "I rode through a few such cycles and can recall the zenith of decadent exuberance and breathtaking spectacle in 2000 when AMD's then showman CEO, Jerry Sanders, clad in tight leather pants, shirt cracked open to the waist, descended to the stage of the HP Pavilion in a cherry-picker and announced that AMD's stock would soar to over $100 per share and that another [chip fabrication plant] would be built in Austin," recalled Bill Bushnell, a rank-and-file veteran software engineer at AMD, in an e-mail to Ars. "Neither occurred."

AMD has been on a notable drop for nearly a decade now. To put it mildly, 2012 was a rough year: AMD lost over $1 billion, effectively wiping out its $471 million profit in 2010 and its $491 million profit in 2011—its two most profitable years in the last decade. Over the last 15 years, AMD has sustained a net loss of nearly $7 billion, and the company has been downgraded by credit rating agencies, burned by lower demand for PCs (and hence, for its products), and even called "un-investable" by one Wall Street analyst.

Last month, the company even sold (and then leased back) its corporate headquarters in Austin, Texas for $164 million as a way to make some quick cash. After years of technical stumbles, Intel now runs circles around AMD in desktop, laptop, and server CPUs, while newcomers like Qualcomm, Samsung, and Nvidia have used their low-power ARM chips to shut AMD out of the burgeoning smartphone and tablet markets. And critics charge that the company still has fundamental structural problems that go beyond technical missteps.

"There's no control on spending—even now, one of the problems is if you take a look at the salary structure," said Atiq Raza, the company's former president, chief technical officer, and chief operating officer, in a conversation with Ars. "[AMD is] a sinking ship, fundamentally. I really am sorry for [current CEO Rory Read]. He's a well-intentioned person but the ship has a huge hole in it. That $164 million is going to go in no time."

Raza calls the company's decline "one of the great fumbled opportunities of our time." How did AMD go from the most successful period in its history to one of its bleakest—and does the company have a fighting chance going forward?
Big Innovators are big dreamers and hence can be powerful catalyzers to create and launch new opportunities by the sheer force of their will, intellect, and vision. But there's a saying that big dreams need wings and landing gear, and that's where Sander's Big Innovator style ultimately cost the company big time. It's the classic hero's tragedy, full of genius and dangerous hubris:
When Jerry Sanders was 18, he was beaten in a street fight by people who left him unconscious in a trash can. "They fractured my skull, broke my nose—that's why you're photographing from the left," Sanders told Daniel Marrow of Computerworld (PDF) in 2000. "So my nose is not more crooked than normal, ribs—I mean just a disaster. And they left me to die. They literally left me to die."

But after three days in a coma, Sanders rallied.

"I once said 'I can die, but I can't fail'," he told the San Francisco Chronicle for a profile. "What I meant was, I was always going to give it my all. I couldn't fail, because failure wasn't an option. I would die before I'd fail."

Sanders went to work for Motorola and Fairchild Semiconductor, but he didn't work long for others. He opened AMD for business on May 1, 1969—when he was just 33 years old. He quickly cemented a reputation for being defiant and flashy, and he kept a poster in his office which read, "Yea, though I walk through the valley of the shadow of death, I shall fear no evil—for I am the meanest son of a bitch in the valley."

"He's a mix between Don Quixote and Indiana Jones," former CFO Barton said, "a swashbuckling idealist, not afraid to tilt at windmills and dream the impossible dream. His whole career, his impossible dream was to battle Intel. And he battled very hard for decades."
Innovators make life interesting. The media loves to portray them as swashbuckling heroes who overcame great odds. See Steve Jobs, Larry Ellison, and Richard Branson. Get behind the press releases and fawning magazine articles and you'll find that Big Innovators are often acerbic, defiant, and short-tempered. They change their minds frequently and often burn things and people down with as much fervor as they once built them up:
… Microsoft CEO Bill Gates showed an interest in NexGen and had a 45-minute meeting with Raza (soon to be AMD's new COO) that stretched into a four-hour dinner. Gates suggested that Raza speak to Sanders since AMD owned a chip fab but needed a better product to build in it. Raza said he would like to talk with Sanders but said he didn't know how to reach the AMD CEO, much less get him to pay attention.

"The first time I was introduced to Jerry Sanders, he didn't even pause long enough to hear my name—he kept calling me Raja," Raza told Ars. "He did that nonstop for 45 minutes telling me how AMD is going to crush me. I stayed there with a smile on my face, but how do I communicate with such a person? Bill said, 'Jerry should not be underestimated—he has three qualities: he's smart, he's extremely egotistical, and he's completely random.'"
Bill Gates totally nailed the definition of a Big Innovator. Tons of ideas. Very intelligent. Usually driven by fear/ego. Often Big Innovators are more interested in validating and defending their existing vision than in learning something new that might counter that vision. This is true until their vision isn't executing as fast as they'd like. Then they look for a new one, which becomes the "vision of the day."
Sanders' management style was idiosyncratic, and it created both loyalty and friction. Patrick Moorhead, AMD's vice president of marketing from 2000 to 2010, still remembers the day he interviewed for the AMD job with Sanders. "I parked my 1990 Toyota Camry next to his Bentley convertible," Moorhead told Ars. "We talked about making a difference and shaking up the industry and quite frankly I just fell right into that. I absolutely loved that pitch."

We were running quarter after quarter on the ragged edge and had been for decades. It was a real culture change of ups and downs. But Raza quickly grew unhappy with his boss' approach to work. Since 1979, Sanders had kept his Beverly Hills office, commuting up to Silicon Valley each week and returning to Southern California Friday through Monday.

"If [Sanders] was constantly engaged, that would be acceptable," Raza said. "He was not engaged. He would be upset if I called him too late in the evening or too early in the morning. I'm a 24/7 kind of guy."
Here's the thing: Big Innovators are outstanding at selling a vision and they need to work on their own schedule, whenever the mood strikes them. This is why two Big Innovators in a company usually clash… it's a conflict of who holds the vision and who sets the direction.
The other big issue came in around finances:
As The New York Times reported in 1989, AMD's corporate culture had also lost the thrifty habits it had at its founding. "Mr. Sanders's increasingly lavish style also became contagious," wrote the paper. "Salesmen who did not wear Rolex watches were likely to find their less-expensive time pieces thrown away by high-level executives who wanted the company to have a certain image. It was an atmosphere, former employees say, that encouraged loose spending throughout the company—a far cry from the early days at Advanced Micro, when Mr. Sanders once rejected a request for an electric pencil sharpener because it was too costly."

Raza also became concerned about the spending, which he came to see as extension of Sanders' personal lifestyle. Shortly after AMD bought NexGen, Raza visited Sanders at his expensive Los Angeles home.

"I said, 'It's a beautiful house,'" Raza said. "He said, 'I got in a competition with Madonna. We had a fight and I outbid Madonna.' I said, 'OK…' And he said, 'I understand what you're thinking. I spend more than I make. I always have spent more than I make.'" Raza said that the comment hit him like a punch in the gut. "And I said, 'I hope you don't do it at AMD,' but he did," he added. (Sanders did not respond to our request for comment.)
Notice that money is just a tool to support the vision — classic Big Innovator behavior.
Financial problems mounted. As AMD stretched out the life of the K6 line, former CFO Barton recalled how the company flitted from one near-disaster to another every few weeks.

"We would have Monday morning operating meetings and someone would say, 'We have a glitch. The yields have dropped precipitously and we don't have anything to sell next week,'" Barton said. "The financial ramifications of that are awful. We have nothing to sell! We're doomed! Then everybody would get their assignments and somewhere in the next day or two there would be an e-mail or phone call saying, 'We fixed it. And it's even better, sales will be higher.'"

Each time this happened, Barton said, Sanders firmly delegated assignments to each department. On numerous occasions, Raza himself only got a few hours' sleep to isolate the repeated problems and get things back on track. On the financial side, Barton and his team had to make a decision about disclosing each problem to investors or to the Securities and Exchange Commission (SEC).

"We were running quarter after quarter on the ragged edge and had been for decades," he added. "It was a real culture change of ups and downs. "For the rest of my career nothing bothered me [as much] anymore."
Because the Big Innovator hasn't allowed or learned how to integrate planning, efficiences, and controls, there's constant management-by-crisis. It can be exciting in short bursts but creates fatigue over the long term.
However, just weeks after the K7 debuted on June 23, 1999, Raza (the COO) left AMD amid rumors that he had a major falling-out with Sanders. Analysts were left scratching their heads.

"It's certainly going to reduce confidence in the company's ability to compete," Linley Gwennap, chief analyst at Cahners MicroDesign Resources, told the Los Angeles Times in 1999. "Atiq was the one guy in upper management that really understood the technology behind the K6 and K7."

As Raza tells the story today, his boss insisted on building a fab in Dresden, Germany, over Raza's objections. (That fab, which still operates today as part of AMD spin-off GlobalFoundries, was completed in the spring of 2000.)

"The trouble in the entire economic model was that AMD did not have enough capital to be able to fund fabs the way they were funding fabs," Raza said. "The point at which I had my final conflict was that [Sanders] started the process of building a new fab with borrowed money prematurely. We didn't need a fab for at least another year. If we had done it a year later, we would have accumulated enough profits to afford the fab in Germany. He laid the foundation for a fundamentally inefficient capital structure that AMD never recovered from. I told him: don't do it. I put the [purchase orders] on hold. He didn't tell me and accelerated the entire process."

Both Raza and Barton recalled, independently of one another, one of Sanders' mantras: "Real men have fabs." Raza called this comment "simultaneously a sexist remark and the most stupid thing you can say," and he saw the fab decision as one of Sanders' "significant acts of irresponsibility." After he quit, Raza never spoke to Sanders again.
So that's very much what you get when you have a Big Innovator at the helm of a company. It's exciting. It's erratic. There will be periods of great booms followed by periods of great busts. It's all or nothing. It's ultimately very frustrating for everyone involved because there's a feeling of "what could have been."
To be clear, all entrepreneurs have a high drive to Produce and Innovate. The great entrepreneurs — the Andrew Groves (who Sanders was never able to beat), the Jeff Bezos, the Jim Sinegals of the world — find ways to complement their strengths and create focused, sustainable enterprises that meet changing customers' needs over time. That's the key to greatness.
You can apply the lessons of this article in a number of ways:
1) Many VCs make the mistake of ousting the founder because he or she appears immature or uncontrollable. But unless the founder truly can't evolve, this is a critical mistake. It's no coincidence that the world's greatest organizations have a founder who thrives in the CEO role and has to be taken out on a stretcher. It's not because these were extra-special founders. It's because these founders were able to harness their Innovating force to make it constructive and not destructive. Put another way, they were able to complement their strengths with co-founders, leaders, processes, and systems that allowed them to be Innovators and respond artfully to market dynamics without succumbing to being Big Innovators who can't get out of their own way.
2) When you're being "sold" by a Big Innovator, recognize that it's going to be 99% enthusiasm, 1% reality, and absolutely no appreciation for the details involved. It's no coincidence that AMD customer service was atrocious. Customers to a Big Innovator are not the lifeblood of the organization but are just a minor inconvenience, a pesky detail to be managed in order to realize the vision.
3) It takes a team to be successful. Big Innovators are so charismatic that they can seem to steal the limelight from everyone else. But if you look deeper into organizations that are truly market leaders, you'll see that the charismatic founder who gets all the press and media accolades is complemented by a co-founder or partner who brings stability and unification to the system: i.e., Mr. Outside and Mr. Inside. As with any marriage, one without the other is a failure. Both together can succeed.
---
Please share this: