The Ultimate Leadership Team Process:
The Best Way to Execute Your Strategy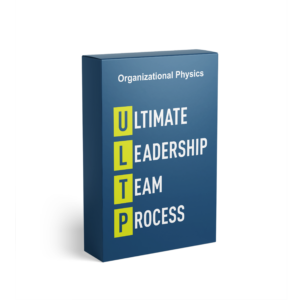 The Ultimate Leadership Team Process (ULTP) guides you to run highly effective strategic execution meetings that result in better team alignment, improved decision-making and transparency, and smoother execution of your strategy.
The software is accessed via the Designed to Scale Membership Program, Pro-level and higher. It is an online interactive program and it securely integrates into your existing IT environment.
The ULTP program is bundled with the Evolving Structure and Cascading Objectives (OKRs) programs. Together, these three software programs provide the foundation for sustained strategic execution at scale.
Key Features of ULTP:
Streamlined Leadership Team Meetings:
ULTP provides a comprehensive agenda for weekly Leadership Team Meetings, guiding teams through each step in the process, fostering individual accountability, and enhancing team performance.

Focused Prioritization: By capturing "hot items" and addressing them later in the meeting, ULTP ensures that discussions stay on track, minimizing ping-pong discussions and premature problem-solving.

Role Updates and Action Items: ULTP simplifies the tracking of role updates and action items, ensuring that they are addressed efficiently during meetings and tracked seamlessly afterward.

Strategic T1 Decision-Making: The software facilitates the handling of Type 1 (T1) proposals, crucial strategic decisions, using a structured 7-step process.

Efficient Break and Agenda Setting: During a break, the CEO and facilitator review hot items, allocating them to specific categories such as "Not Going to Track It," "New Action Item," or "CEO Soapbox."

Post-Meeting Organization: ULTP automates post-meeting tasks, making it easy to archive role updates and hot items, record completed action items, and prepare for the next meeting.
With over fifteen years of experience facilitating Leadership Team meetings for all types of organizations, we've developed this program to create a significant shift in organizational performance. It's all about building thriving companies that adapt quickly and deliver sustainable results.
Take a Peek Inside an Ultimate Leadership Team Meeting
The program includes everything you need, all in one place, to run highly effective Leadership Team meetings and track performance over time.
Imagine a cross-functional team of 12 to 15 leaders. The team can meet online or in person. One team member is the CEO, and another team member is the designated facilitator. Not all members need to be direct reports to the CEO nor have the same level of title.
A Leadership Team exists for one purpose only: to drive the short-range tactics that achieve the long-range strategy. Therefore, this process is designed to accomplish that purpose. To give you a sense of how it works, here's an outline of how a Leadership Team meeting is run using the ULTP model.
Step 1: Set the Stage
The meeting starts promptly on time. The facilitator asks each member a defreeze question (over 100 defreeze questions are included in the program). Then the facilitator, in their own words, reads the meeting purpose and reinforces the company's strategic imperatives and operating agreements with the team.
Here's a screenshot of the purpose of the Leadership Team. If you want to call this team something other than "Leadership Team," for example "Strategic Execution Team," you can change it in program:

Step 2: Dashboard Review
Next, the company's CFO or head of Business Intelligence gives a short narrative on the latest Leadership-Team-level dashboard metrics. You can easily copy and paste your existing Leadership Team dashboard report into this page. Alternatively, you can modify the  basic Leadership-Team-level dashboard that is included in your program.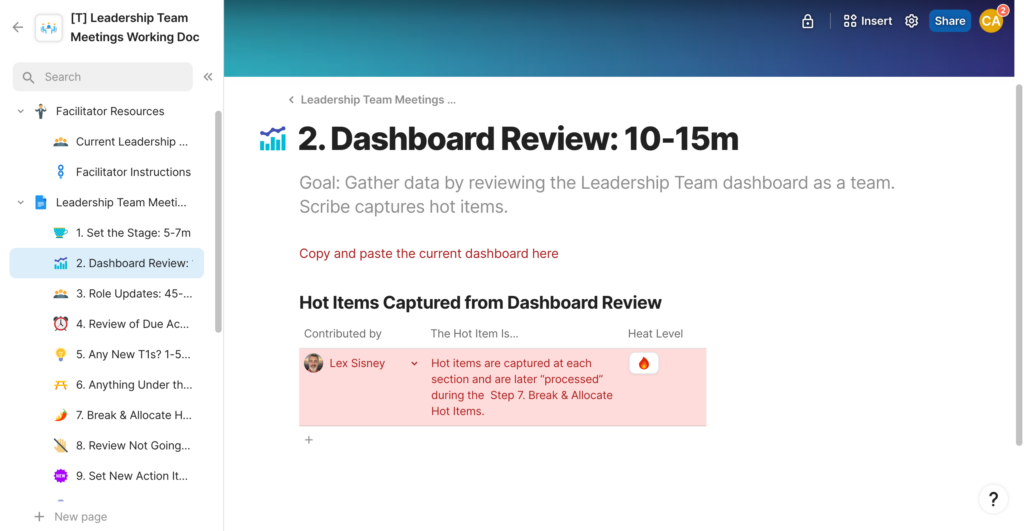 Do you see this "hot item" capture box shown above? This concept is important. Starting from this Step 2: Dashboard Review and up to the Step 7: Break and Agenda Setting, the facilitator is listening for "hot items" and capturing them in the software to be processed later.
In other words, the CEO, along with his or her in-house facilitator, does not allow the team to engage in ping-pong discussions or premature solution finding. During this first part of the Leadership Team meeting, the goal is to simply raise awareness across the team about what has happened since the last meeting, as well as identify and capture hot items that will be handled later in the meeting.
You can use this concept alone to transform your meetings from a bunch of opinion generation into much more focused discussions and decisions. Let's keep going through the steps of the meeting cadence to see how this works.
Step 3: Role Updates
In advance of the meeting, the team submitted written role updates. Role update reminders, notifications, and an archive of past role updates are built into the system. Here's a snapshot of a role update: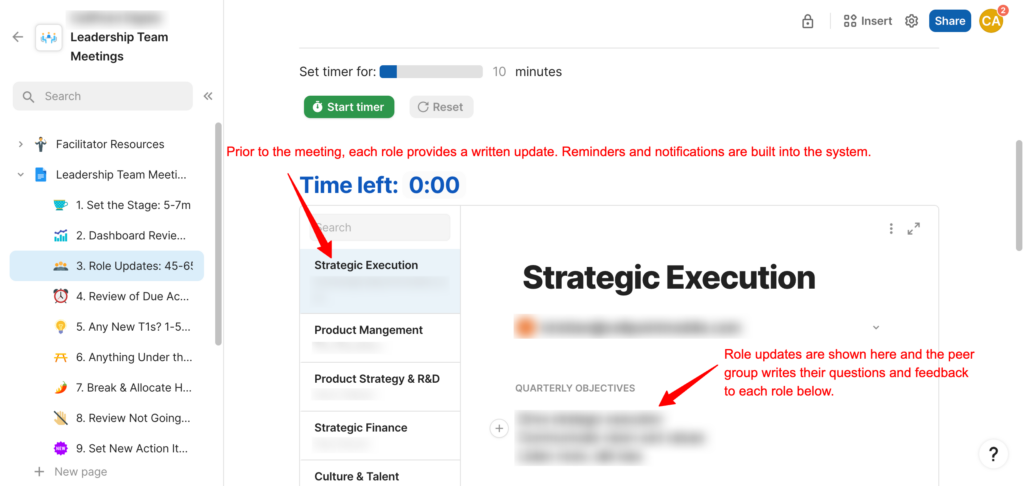 During the meeting, the facilitator allocates ten minutes for the team to read each others' role updates and to write their questions and feedback to their peers. This can also be done prior to the meeting. Just like the dashboard review, the purpose is to build shared consciousness and to identify and capture new hot items, but not try to solve them yet.
Step 4: Review of Due Action Items
Everything in the meeting is captured in a single database. Due action items automatically show up in this step to be marked as "done" or "not done" and for the assigned implementer to share a little bit of color. Incomplete action items are an automatic hot item to be processed later in the meeting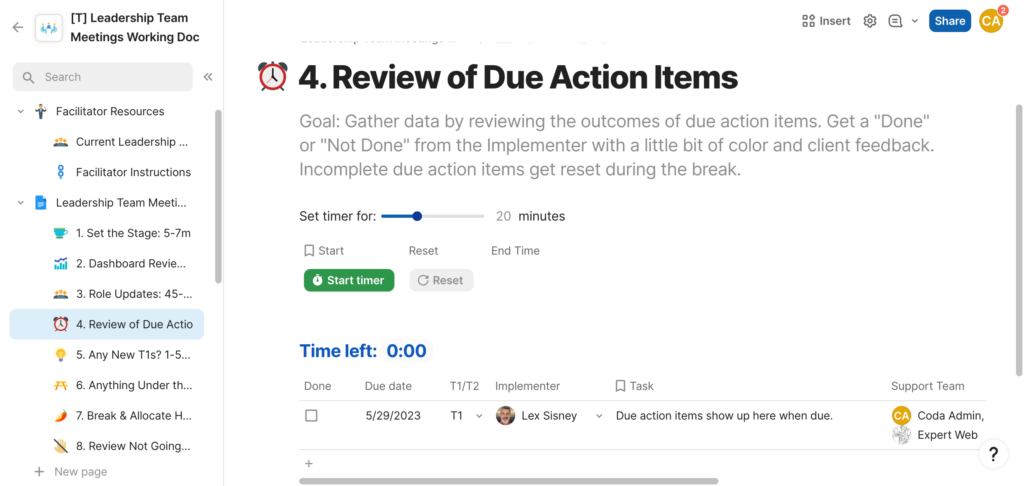 Step 5: Any New T1s?
Any new T1s is a scan for any new Type 1 proposals coming in from the organization. Type 1 proposals are big, strategic decisions that have a proposal and business case behind them. They are processed by the Leadership Team during the second half of the meeting using a 7-step process contained in the program.
The T1 process, combined with this meeting format, is crucial to allowing the CEO to delegate with the right level of visibility and control. You can learn more about the T1 decision-making process by reading the 3 Agreements and reviewing the T1 proposal template found under Free Tools.
Step 6: Anything Under the Table?
This last step before the break is a scan for anything causing entropy that hasn't been captured as a hot item yet. It's a safety valve to make sure that any potential issues to resolve are on the table.
Step 7: Break and Agenda Setting
The group takes a break while the Facilitator and CEO review the list of new hot items. For each hot item, the CEO decides to "Treat It As…:"
Not Going to Track It. These are items not significant enough to track at the Leadership Team level.
New Action Item to Assign. These are issues to be triaged in the Action Plan and assigned an implementer, due date, support team, and designation as a T1 or T2 decision.
CEO Soapbox. These are items to be addressed, for education or clarification, via a brief message from the CEO.
The software allocates each hot item to the bucket the CEO chooses: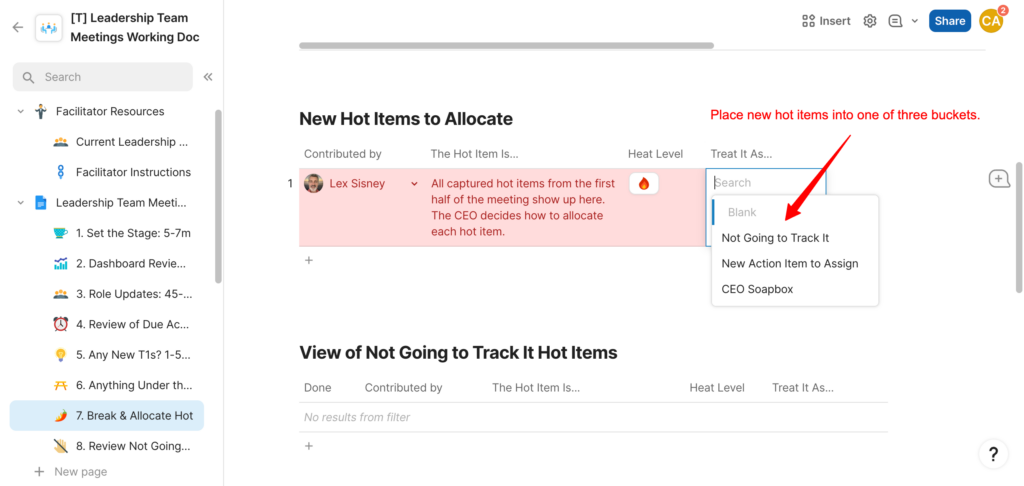 Steps 8 to 12
When the team comes back from break, the Facilitator shares how the hot items were allocated in this sequence:
Quickly review the Not Going to Track It items (Step 8).
Clarify and adopt New Action Items with the assigned implementer and reset any past due Action Items (Step 9).
CEO shares any CEO Soapbox message with the team (Step 10).
If there are any T1 proposals ready to be made, make them (Step 11).
Close out and reinforce the meeting (Step 12).
After the Meeting
The software makes it easy to clear the decks for the next meeting by automatically copying role updates and hot items to the archive, making a record of completed action items, and creating space for new role updates to be made the following week.
Since all action items are captured in a single database, it is easy to sort and filter based on the individual owners, the type of action item, the due date, etc. Each Leadership Team member can also set their personal notification preferences and each also has a personalized view of all their individual action items and assignments.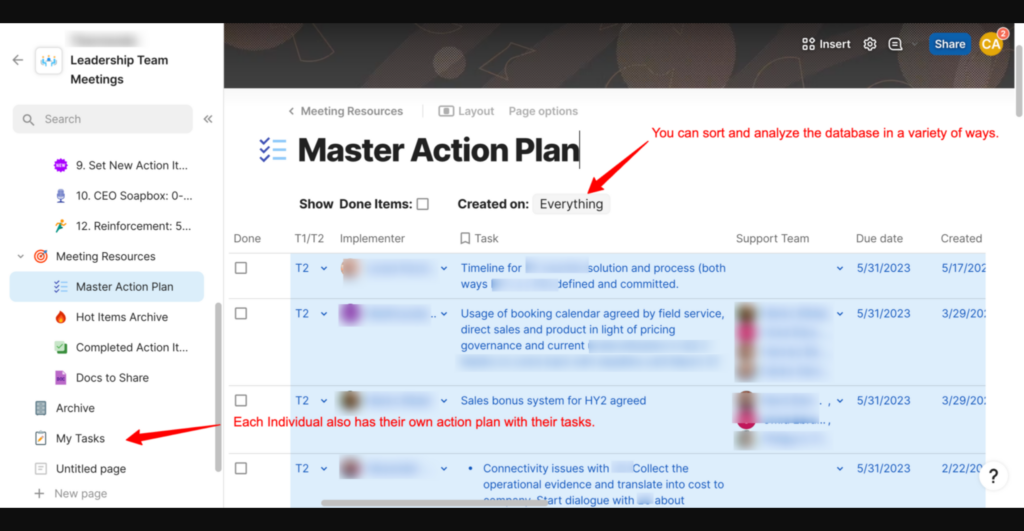 Summary of the Ultimate Leadership Team Process
Let's summarize. The purpose of the Leadership Team process is to oversee short-range tactical decision-making and implementation of the strategy. The goal is to follow a sound process that leads to good team-based decisions that get implemented fast. The ultimate goal is to build a thriving company that adapts quickly to changing conditions and drives sustainable results, now and over time.
This program makes it easy to set up, manage, and coordinate your Leadership Team to drive strategic execution. The included facilitator and CEO training material and videos, combined with the design of the overall system, make it possible to follow the process, get the most out of your team, and see measurable improvements in teamwork, velocity, and coordination.
Three Programs for the Price of One
In addition, by subscribing to the Designed to Scale Pro-level Membership Program, you get access to the Ultimate Leadership Team Process plus our Evolving Structure and Cascading Objectives (OKRs) software programs for one price.
The three programs connect like this and provide the backbone for sustained strategic execution: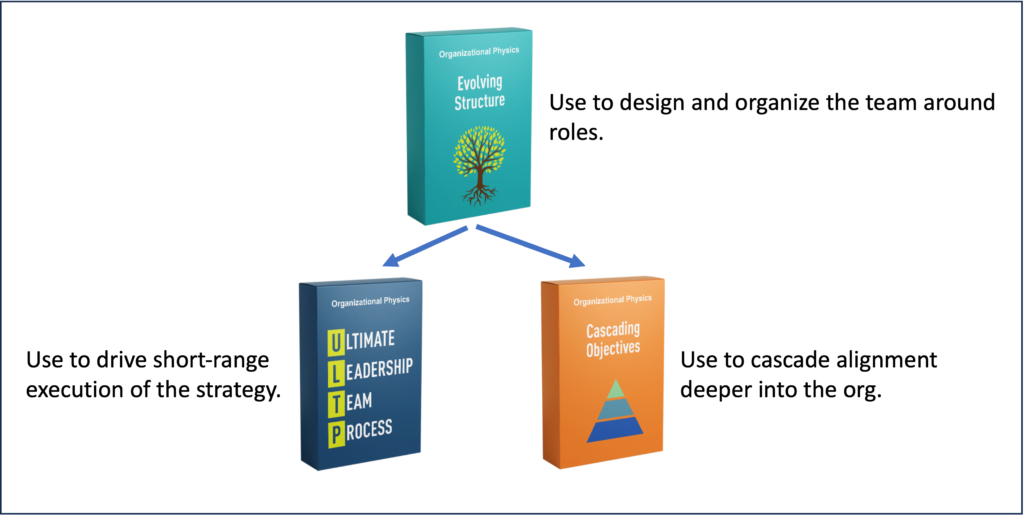 Frequently Asked Questions
1. Who is a good choice for facilitator?
Choose facilitators who are skilled at running a process and who have a natural ability to earn and maintain trust from the group. Heads of Business Alignment, Product Management, and Culture & Talent frequently make good facilitators.
2. We're already running a formal leadership team process. How is this different?
There are some similarities among all effective meeting processes. What makes ours unique is that it allows you to energize your evolving structure and see results; to drive strategic execution at scale; to enable the CEO to assess for role fit; to improve cross-functional coordination and execution speed; and to push autonomy and authority deep into the organization. If your existing process does all this or better, then you should keep using it and we'd love to learn about it.
I do want to say that this process was born in my coaching practice where I've helped several hundred companies across all regions of the world and business models to scale. Every successful Organizational Physics coaching client has adopted this model. This is true even for those many clients that were running another model, including those from EOS, Scaling Up, and Patrick Lencioni. These are all fine models but I would say that ULTP would be akin to going to grad school compared to undergrad. The ULTP approach is designed to take your company from $3M to $300M+ in sales. After that, you'll need a more advanced leadership team model to go further.
3. Doesn't this model require a lot from the facilitators?
Yes, it does. I didn't mention this above for simplicity but our training manual actually calls for a Scribe who supports the Facilitator in capturing hot items and processing them during the break. I have found that certain individuals actually thrive at facilitating, so you definitely want to identify the right volunteers on the team. I've also had teams that, once the core facilitators were trained in, rotated the facilitator role across the entire team. This is an excellent way to teach the methodology and increase appreciation for the facilitation role.
4. Can't the CEO also be the facilitator?
No! At least not if you want to scale your business successfully. If you don't sign up for this program, because it costs too much for your company, OK. But for the love of all that is holy, don't try to be both CEO and facilitator at the same time. It's counterproductive and once you experience the difference, you'll never go back.
5. Can you train in our facilitators personally?
Yes! We enjoy training facilitators and have a powerful program to accomplish this. If you would like this level of personalized support, you can apply for our custom facilitator training & certification program.
6. How are Leadership Team members chosen?
You will use the Evolving Structure tool to indicates who should be on your Leadership Team. The comprised team must provide a holistic view of the entire business, which requires having a critical number of functional heads on the team. As mentioned, the Leadership Team does not need to be all directly reporting to the CEO or have similar titles. They are on the team, temporarily, for the roles they play in the structure. That's it.
7. How much is it?
Please see our current pricing here. One annual fee covers all three programs: Evolving Structure, Ultimate Leadership Team Process, and Cascading Objectives (OKRs), plus all of our other Strategic Alignment Tools and PSIU credits too.
8. Is there a money-back guarantee?
Yes. When you're ready, sign up for the Pro-level membership tier or above. If you make an honest effort to use the program within the first 30 days but you are not wholly satisfied with the outcomes, you can let us know and we will issue you a full refund.
9. Is training included?
The software includes a full online training package with videos and documentation, as well as email support.
10. Does this software integrate with our existing stack?
Yes, it should. We use a third-party tool called Coda to manage the backend functionality of this program. Coda integrates with most of the popular IT environments and tools (Microsoft, Google, Asana, Slack, etc.). As part of our service, we don't perform any integration work, and none is actually required to use and benefit from this program.
11. What is the ultimate benefit of this approach?
There are four major benefits of taking this approach to running your Leadership Team meetings:
Benefit #1. It rapidly builds cross-functional awareness
If you've ever been in an environment where the right hand doesn't know what the left is doing, you know what a drag this can be on business momentum. Using this process correctly, you'll be able to solve this problem, permanently, in three to four weeks.
Benefit #2. It focuses the team on what matters
When a team wastes time and energy repeating the same discussions, or tackling unimportant issues—well, you know how soul-sucking it can be to sit in an unproductive meeting. As long as the team utilizes this process correctly, those cyclical discussions should disappear and the team's finite resources can be allocated to the most important tasks.
Benefit #3. It frees the CEO to be strategic
Working on the business, not in it, is one thing, but designing it that way is another. Combined with the Evolving Structure Program, this process allows the CEO to delegate with visibility and control. This format will save the CEO a tremendous amount of time and energy that was previously wasted on managing people and tasks separately. They can use this newly available capacity to focus on the long-range strategic development of the business.
Benefit #4. It provides unarguable clarity on individual performance
Just as a professional football team needs very strong individual performers, so does your Leadership Team. Traditional meeting processes, however, can make it difficult to judge who is a good fit for a given role and who is not. It is even possible for someone to appear like a star within a meeting, but be a low performer outside it. As a result of the transparency and delegation that this process enforces, this is no longer possible. You will be able to determine who is a strong fit for the role and who isn't, and you will be able to act accordingly with confidence.
Become a Pro Member
Join the Designed to Scale Pro Membership Program by clicking the button below. We'll ask you a few questions via email to aid your setup, and then you can get started on activating this powerful leadership team model.