"It's possible to rehabilitate large-scale damaged ecosystems."
– John D. Liu
"Green Gold" is a film documentary about how farming cultures in Africa, Asia, and South America are reclaiming once fertile land from the desert. I'm inspired to share it for three very important reasons:
It's a great synopsis of systems thinking in action. Small changes have big repercussions. Every action has an equal and opposite reaction… even continents away. And every part of the global system is interconnected and interdependent with the rest. Once you set up the ecosystem the right way, it organically grows, prospers, and flourishes over time. In the words of an expert interviewed in the film, "The world gets more and more complicated all the time, but the solutions to fix the world's ecosystems remains relatively simple." The same thing is true for your business growth. If it seems complicated, the solutions are simple. Be a systems thinker, eliminate entropy, apply the right force of change, know what steps to take next. Design your system or business so that it can scale organically…even without your direct involvement.
It's a wonderful example of an individual leveraging his strengths and passions to solve a big problem in the world. The filmaker, John D. Liu, is one of the world's foremost experts on ecosystem reconstruction. But guess what? By background, he's just a contract documentary filmmaker. John has no formal training in ecology, biology, farming, or permaculture. He stumbled across a solution to the complex global problem of desertification. Seeing solutions that work and inspired to take action, he learned what he needed to learn while leveraging his talents of filmmaking and curiosity. This is a very powerful example of Your Genius Zone in action.
It inspires positive, concrete action in the face of accelerating climate change. According to the UN, some two billion people depend on ecosystems in dry land areas, 90% of whom live in developing countries. The scientific consensus is that the rate of desertification is increasing around the world. As this map shows, it's a pretty big fucking deal: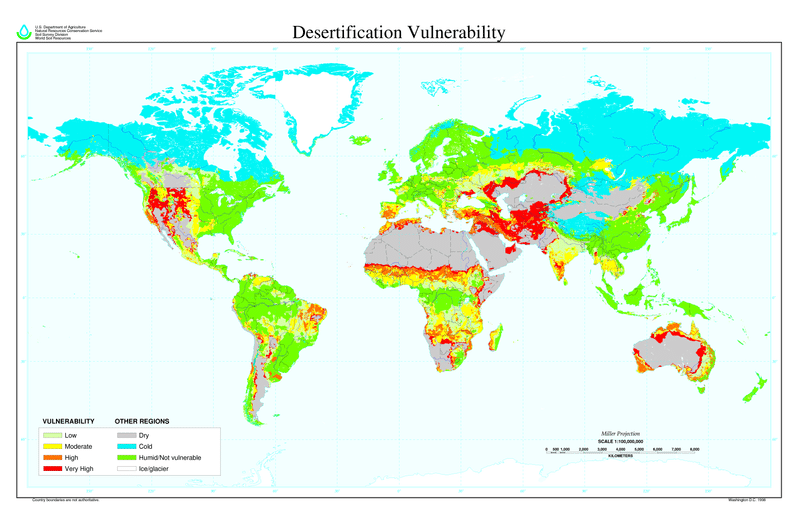 So doesn't it make sense to invest in restoring once vibrant ecosystems? The techniques are simple. The dividends are long-term and catalyze a positive impact on every aspect of society — food and water availability, renewed harmony with the land, quality of life – and act as a powerful counterweight to climate change. As they ask in the film, "If it's possible to restore large-scale damaged ecosystems, then why don't we do just that?"