A Spiritual Development Book Written for Entrepreneurs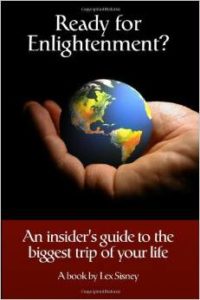 Ready for Enlightenment? An Insider's Guide to the Biggest Trip of Your Life
The characteristics that make an entrepreneur successful—courage, intelligence, dedication, the willingness to really "go for it"—are the same ones that, if turned inward, lead to spiritual breakthroughs. Vulnerable, genuine, honest, funny and serious all at the same time, Ready for Enlightenment? takes you behind the scenes of lasting transformation.
I wrote this book in my early thirties as I was closing out a transition chapter in my life. Spiritual development, like any development, isn't a destination. It's a progression. I would say that writing it back then helped me to make sense of some things I was going through. If you're also an entrepreneur who is on a spiritual journey, then you may find it provides some reinforcement to keep going. :-) That's the spirit I offer it up in anyway.
Some of my former teachers were kind enough to leave an endorsement…
What Other Conscious Leadership Luminaries Are Saying
"Not only does Ready for Enlightenment? ring with truth and resonate with love, it is often as thrilling as an adventure story. If you are on the journey of greater spiritual awareness and conscious living, you'll find a wise friend and fellow adventurer in these pages. Enjoy!"

—Gay Hendricks, Ph.D. Best-selling author (with Dr. Kathlyn Hendricks) of Conscious Loving and Spirit-Centered Relationships. Co-founder, Spiritual Cinema Circle and Transformational Book Club
"Every now and then an authentic new voice arrives that embodies the essential truth of all wisdom traditions and literally communicates powerfully with every word. I found Ready for Enlightenment? stimulating, inspiring, and even though I am a veteran self-evolver, the book set me onward with some new goals, insights and specific teachings to learn from. Lex is so engaging, and having worked with him personally, I know what a remarkable teacher of transformation he truly is. I highly recommend this book."

—Dr. Barbara Marx Hubbard. Author of Conscious Evolution: Awakening the Power of our Social Potential. President, Foundation for Conscious Evolution and co-founder, World Future Society and Global Association for New Thought
"Lex has written a guide to spiritual transformation in an elegant and straight forward way. I recommend this book to anyone interested in conscious evolution."

—Dr. Deepak Chopra. Author of How to Know God. Founder, Chopra Center for Well-Being
Buy the Book