Structure Design Program:
How to Get Structure Right for the Next Stage of Growth
The complete Designed to Scale Coaching Program consists of three levels. Structure Design is Level 2.
The Structure Design Program is Level 2 of this coaching program. Here you receive access to pro tools and coaching to design the next-stage scalable structure to support your business strategy. The prerequisite to this program is successful completion of the Level 1 Strategic Alignment Program.
Essentially, in this program we guide you step by step to design the right new structure using the principles and tools laid out in Part II of the book Designed to Scale.
As you will learn in the book, there are Six Rules of Structure to follow when designing a new structure.
The Six Rules of Structure
If the strategy or lifecycle stage changes, change the structure.
Don't allow short-range functions to control long-range ones.
Don't allow efficiency functions to control effectiveness ones.
Don't allow centralized control to overpower autonomy.
Put people into roles where they can focus and thrive.
Process brings structure alive.
You should be able to understand these rules intuitively. If not, you can read more about them in the book. There are also nuances and trade-offs in your particular business case, which can make them seem hard to apply. With this coaching program, we take on this burden for you.
The Five Steps to Designing a Scalable Structure
As described in the book Designed to Scale, there are five steps to follow when designing a new structure:
In this program we will accomplish the first four of these steps in sequence and only behind the scenes. We do deep thinking, draft, and discuss design decisions and tradeoffs without revealing anything outside of the small coaching group (me, you, and optionally your trusted right hand). In the next level of this coaching program, we pick up the fifth step, planning and executing the roll out.
Step 1: Map Key Process Cycles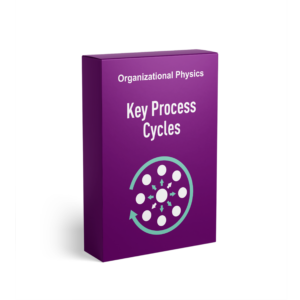 Key Process Cycles illustrate the desired customer journey, product development journey, employee journey, and strategic execution cycle for your company. By building these visual maps, we can gain a better understanding of why the current structure might be failing. These maps provide the basis for building the new structure, since if the new structure does not improve the customer experience, product development pace, employee fit, employee engagement, and strategic execution cadence, then it is not the right structure.
Together we will design the right process flows for all four areas (customer, product, employee, and strategic execution). We will review and optimize each cycle together and identify what is working and what is not. Ultimately, each step in these cycles will be assigned a role based on the new structure (see below).
Steps 2 & 3: Map Functions, Clarify & Adopt the Structure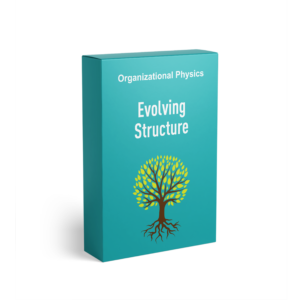 An Evolving Structure is a custom structure created by following the six rules of structure above. Using the business strategy and the ideal customer, product, and employee journeys, the structure identifies the functions the business must perform, the location of each function in the structure, and the authority delegated to each function. Each function in the structure is described by its purpose, its time horizon (whether it should be focused on short-term or long-term issues), its orientation (whether it should be more effective or efficient in its approach), its preferred PSIU style, its key performance indicators, and its accountabilities. By mapping everything into four quadrants, it becomes easy to understand and evolve the structure as business needs change.
Using the Organizational Physics Structure Map, and based on our shared understanding of the business strategy and needs, we will map the functions/roles accountable for each step in the customer, product, and employee journeys to design a new structure. As a result, you will have a structure that is scalable and designed for your current lifecycle stage and business strategy. It will provide vivid clarity and ownership over roles as well as improved knowledge of talent gaps and new hire priorities to scale.
Step 4: Place People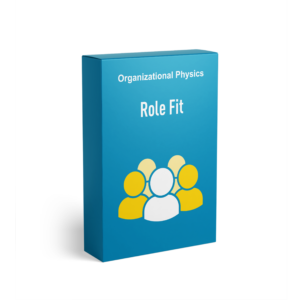 The Role Fit training module utilizes PSIU Assessments, the new structure's enhanced role clarity, and the Organizational Physics Draft Board to help you stack your structure with the right talent.
Using the new structure, we identify potential roles for the current team, talent gaps, and hiring priorities. Additionally, we identify smart ways to consolidate reporting lines. The result is a clear picture of the overall team composition including improved awareness of an individual's strengths and weaknesses and the real requirements for them to thrive in a given role.
Frequently Asked Questions
1. My business is complex. Can your process handle it?
Each structure is unique in its own way. But even the most complex environments are governed by the same universal laws. Those laws can be used to your advantage if you know them. If you can get them working for you instead of against you, you will be able to accomplish more and very quickly.
All of this is done with your input and collaboration. You are the expert in your business vertical, business model, and team. I am an expert in redesigning environments so you can get the most out of your team. Also, you should know that this approach has been baked for over a decade in the high temperatures of real-world experience. It's worth a conversation to find out.
2. Three weeks … really?
Based on my experience, we can write a strong draft of a new structure fairly quickly if we understand the business strategy and sources of internal friction (which is accomplished in the Level 1 program). This will, however, be an entirely new way to view your business for you, so it will take some time for you to reflect, digest, and adjust it to fit your own needs.
Some of my high-producing clients want things done in three hours, not three weeks. Other clients can't imagine designing a global structure for a complex multi-vertical business in just three weeks. All I can say is that this process cannot be rushed. It is okay to be quick, but not rushed. We will take as much time as you need to design, digest, and adjust the structure. We want to be at 85% or better accuracy before we move to the next stage of the program.
It is also important to reinforce that we are not talking about rolling out the structure during this time period. We're just planning, designing, and thinking together backstage. Actual implementation happens afterward, with the next program level.
3. How flexible are you?
If you are familiar with my work, you know it is based on first principles and rules. You might think I might try to force-fit your company into my box rather than doing what is necessary and appropriate for you. My answer is no, I am not dogmatic. Real-world entrepreneurship in the trenches gave birth to this methodology. I am also not an academic theorist. I value what works.
However, if we do work together, I have one overriding expectation: that you commit to understanding the principles before taking action. Sometimes we need to make trade-offs and violate the principles, and I get it. But I expect you to clearly understand those trade-offs and downstream consequences first.  A key advantage of this first principles approach is that it allows you to clearly identify those trade-offs and consequences in order to make the best decisions for your company.
How to Apply
When you apply for this program, you'll want to have already read or listened to the book Designed to Scale. Additionally, your business should be complicated enough that it warrants an expert coach to guide you on your structure design. Schedule a consultation or learn about the next level of this program.


Or